ABB signs agreement with Savannah Resources as plans progress for zero emission lithium project in Europe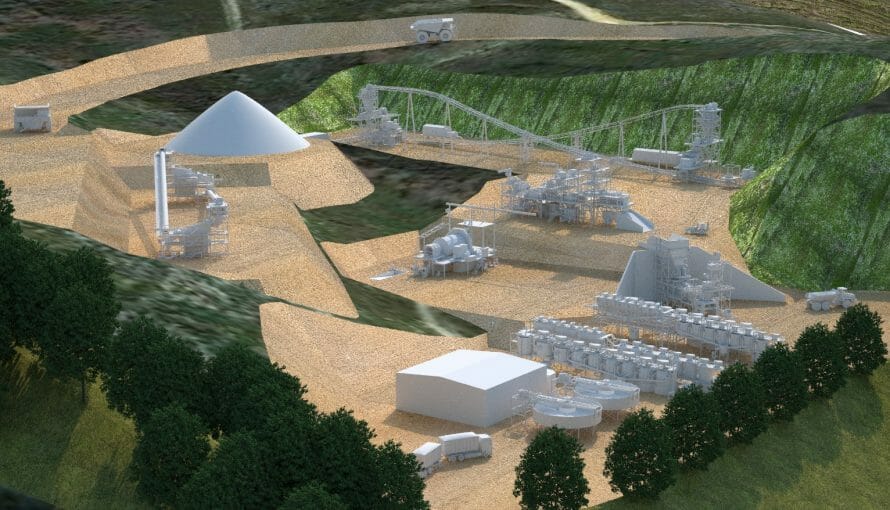 zurich, switzerland, march 30, 2022
ABB signs agreement with Savannah Resources as plans progress for zero emission lithium project in Europe
Memorandum of Understanding (MoU) between Savannah Resources plc and ABB signals intent to work together to explore electrification, automation and digital solutions for the Barroso Lithium Project in Portugal
ABB will provide technical expertise to outline production control and process solutions for lithium production in line with Savannah's decarbonization strategy and aim of zero emission operations by 2030
The project is the largest known resource of hardrock spodumene lithium in Europe and could be a significant source of carbon-neutral lithium concentrate to help meet growing electric vehicle (EV) battery demand
ABB and Savannah Resources plc have signed a Memorandum of Understanding (MoU) to explore industrial automation and smart electrification solutions for the development of Savannah's Barroso Lithium Project in northern Portugal.
Under the early-stage agreement, global technology leader ABB will apply its technical expertise to outline production control and process solutions for lithium concentrate production and integrated spodumene mining operations in line with Savannah's target of zero emission operations by 2030.
The Barroso Lithium Project is located 143km north-east of Porto and is Europe's largest known resource of hardrock spodumene lithium. Savannah's objective is to develop an operation producing premium, carbon-neutral lithium concentrate as a strategic raw material in Europe's EV battery supply chain. Local electricity, produced mainly from hydro, solar and wind energy with zero carbon emissions, would be used to provide power to the project. ABB's technology solutions are well aligned and would maximize the use of the renewable energy and electrification to move the project towards carbon neutral production.
European lithium battery manufacturing is set for rapid growth and accelerating demand for lithium chemical production. This is driven by European Commission targets to make the EU carbon neutral and to reduce EU transport emissions by 90 percent by 2050.
Savannah is focused on responsible development of the Barroso Lithium Project by using 238 individual measures to eliminate or mitigate environmental impacts. These measures will be included in the Definitive Feasibility Study on the project, which Savannah is currently completing. This will also incorporate the actions from the current project decarbonization study which supports Savannah's commitment to target a zero emission operation by 2030 or earlier. Savannah also places great emphasis on its social responsibilities and a comprehensive set of programmes have been designed to share benefits and opportunities with local communities.
"ABB is at the forefront of the automation and electrification that is required for our decarbonization journey," said David Archer, CEO, Savannah. "We are pleased to have their expertise as we continue to execute on our decarbonization strategy to build Europe's first lithium spodumene production facility, as a critical supplier of low carbon raw materials for more sustainable batteries."
"The development of Savannah's Barroso Lithium Project provides us with an additional opportunity to showcase ABB's leadership in industrial automation and smart electrification in Europe, applied towards key operations for the emerging European battery supply chain," said Frederik Esterhuizen, Hub Manager Central and South Europe & Australia, Process Industries, ABB. "This is another step as we continue to enable more sustainable and fossil fuel free industrial operations."
ABB will also work towards binding agreements with Savannah in relation to the electrification, automation and digital solutions in the future.
ABB (ABBN: SIX Swiss Ex) is a leading global technology company that energizes the transformation of society and industry to achieve a more productive, sustainable future. By connecting software to its electrification, robotics, automation and motion portfolio, ABB pushes the boundaries of technology to drive performance to new levels. With a history of excellence stretching back more than 130 years, ABB's success is driven by about 105,000 talented employees in over 100 countries. www.abb.com
ABB's Process Automation business is a leader in automation, electrification and digitalization for the process and hybrid industries. We serve our customers with a broad portfolio of products, systems, and end-to-end solutions, including our # 1 distributed control system, software, and lifecycle services, industry-specific products as well as measurement and analytics, marine and turbocharging offerings. As the global #2 in the market, we build on our deep domain expertise, diverse team and global footprint, and are dedicated to helping our customers increase competitiveness, improve their return on investment and run safe, smart, and sustainable operations. go.abb/processautomation
—
For more information please contact:
Media Relations
Chris Brand
Phone: +44 (0) 7523919978Email: 

[email protected]

ABB Ltd
Affolternstrasse 44
8050 Zurich
Switzerland