Breathe Battery Technologies and VARTA join forces to level up VARTA's Easy Blade battery series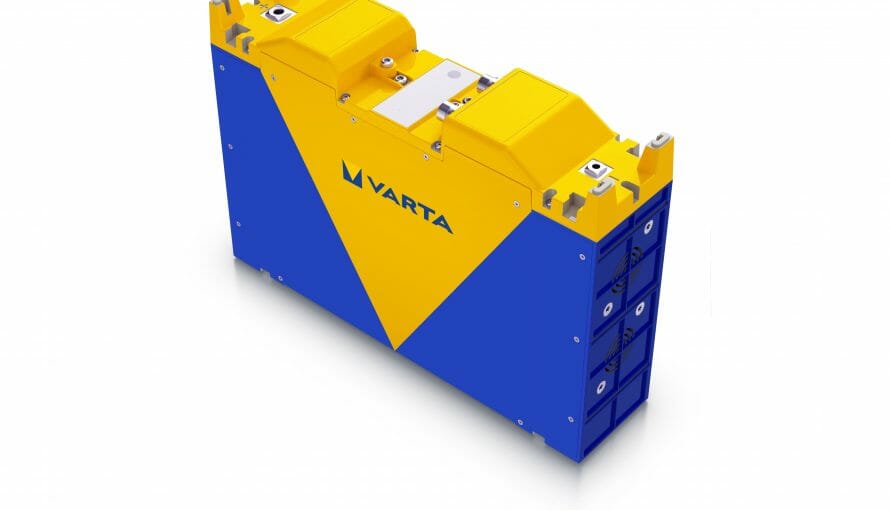 VARTA, the battery specialist and manufacturer, has partnered with Breathe Battery Technologies, the developer of battery enhancement software, to significantly reduce the charging time of the VARTA Easy Blade Battery series and increase the amount of energy that can be stored in the cells.
Breathe Charge, the innovative healthy charging software from Breathe Battery Technologies, has been applied to the lithium-ion based battery VARTA Easy Blade 48V, which is primarily used in small and medium sized vehicles like AGVs or forklifts.  The software reduces the charging time of the battery by 27%*, saving 23 minutes, and also makes it possible to store 3% more energy in the cells. In addition, the lifetime of the battery is always retained. The software can be applied to all battery versions of the Easy Blade battery series.
Alexander Abele, Strategic Product Manager at VARTA: "For all applications and devices which are powered by an independent energy source, the charging time and battery lifetime are always the crucial challenges which need to be managed. Our engineers, together with the experts from Breathe Battery Technologies, were able to address exactly these points in different multi-step charge profiles. The software is available from now on and applicable to our other customised battery solutions. We're happy that, together with Breathe Battery Technologies, we are now able to provide our customers with an even better battery system for their future-driven applications"
In addition, Breathe Battery Technologies provided VARTA with a different charging solution to increase the amount of energy added to the battery during charge, so that VARTA customers can benefit from more uptime, runtime and range.
Dr Ian Campbell, CEO at Breathe Battery Technologies: "We are living in a world where more and more applications are battery-powered, from the smartphones in our pockets to heavy industrial vehicles. Therefore, healthy fast charging is crucial to enabling the next generation of gains in uptime and productivity. VARTA is an incredibly forward-thinking company with a great history so it wanted a solution that could both reduce charge time and increase energy stored in its battery. We're delighted to see Breathe Charge on the Easy Blade 48 V system, providing significantly faster charging."
Faster charging results using Breathe Charge:
o          VARTA EasyBlade charging time reduced by 27% to 80% state of charge / SOC.
o          VARTA EasyBlade charging time reduced by 43% to 50% state of charge / SOC.
o          VARTA EasyBlade charging time reduced by 16% to 100% state of charge / SOC.
* relative to previous VARTA Easy Blade 48V performance
Breathe and VARTA now want to expand the one-year-old partnership and explore opportunities for the wider uptake of the healthy fast charging technologies.
Breathe Battery Technologies Media contact:
Dr Ian Campbell
CEO & Co-Founder
Tel: +44 (0)2045 295647
VARTA Media contact
Christian Kucznierz
Head of Corporate Communications
Tel: +49 79 61 921-2727
[email protected]
About VARTA AG
VARTA AG produces and markets a comprehensive battery portfolio from microbatteries, household batteries, energy storage systems to customer-specific battery solutions for a variety of applications and, as a technology leader, sets industry standards in important areas. As the parent company of the group, it operates in the business segments "Lithium-Ion Solutions & Microbatteries" and "Household Batteries".
The "Lithium-Ion Solutions & Microbatteries" segment focuses on microbatteries, lithium-ion coin power, lithium-ion round cells (lithium-ion large cells) and the lithium-ion battery pack business. Through intensive research and development, VARTA sets global standards in many areas of lithium-ion technology and microbatteries, making it a recognized innovation leader in the important growth markets of lithium-ion technology and in primary hearing aid batteries. The "Household Batteries" segment comprises the battery business for end customers, including household batteries, accumulators, chargers, portable power (power banks) and lights as well as energy storage devices.
The VARTA AG Group currently employs almost 4,700 people. With five production and manufacturing facilities in Europe and Asia as well as sales centers in Asia, Europe and the USA, the operating subsidiaries of VARTA AG are currently active in over 75 countries around the world.
About Breathe Battery Technologies
Breathe Battery Technologies is the developer of the world's first health adaptive battery charging software. Our mission is to create technologies that enable people to breathe cleaner air. Through continuous research and development, we are pioneering new ways to utilise battery systems and enhance their health, charging, cycle life and range. Our flagship products are Breathe Charge and Breathe Life.
Headquartered in London, we work in partnership with global OEMs in the automotive, robotics and consumer electronics industries to deliver advanced battery system performance and experiences.
https://www.breathe.technology/