Britishvolt successfully develops Production Intent battery cells; signs agreement to scale-up next generation cell technologies with UK Battery Industrialisation Centre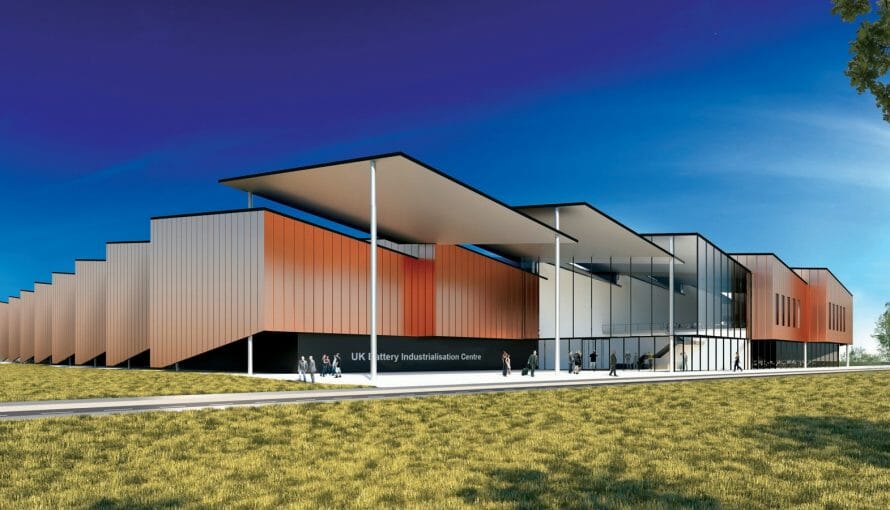 Industrialisation Centre  
Battery pioneer, Britishvolt, has entered into a two-year, £ multi-million agreement with the renowned UK Battery Industrialisation Centre (UKBIC), to develop, assemble and manufacture its next generation sample cells for mass production and commercialization.
It has also successfully developed its first Production Intent next generation Li-ion cells, which are exceeding its expectations, using UK developed intellectual property, and puts Britishvolt on a glidepath to its first commercial products.
Britishvolt are developing improved electric vehicle high energy, high nickel Li-ion battery cells that give customers increased battery performance with longer range for vehicles and brand specific characteristics.
High technical maturity development cells manufactured and tested at the close of 2021, at UKBIC, exceeded expectations and show that Britishvolt's world-class research and technology developments, combined with UKBIC industrialisation and scale up capability, are already promising the battery cell solutions of the future.
HM Government announced January 21 their support for Britishvolt via an in principle offer of funding made through the Automotive Transformation Fund. This enabled a long-term partnership with Trixtax and abrdn that will deliver £1.7bn in private funding. This historic investment will help propel the UK's successful energy transition on the road to zero.
Britishvolt's planned Gigaplant in Northumberland aligns with the Government's ambition to level-up the Northeast, protect the UK's national automotive sector and put Britain at the centre of the global battery industry.
Northumberland, 24/01/2022: Battery pioneer, Britishvolt, is proud to announce a two-year multi-million pound [£] co-development framework with the UK Battery Industrialisation Centre (UKBIC) to produce its next generation of battery cells.
Initial solutions will focus on high nickel, increased energy density materials to produce and test batteries with greater performance and range.
Coventry-based UKBIC, a national battery manufacturing development facility providing battery manufacturing scale-up in the battery sector, has a fast growing reputation for battery R&D which will put Britain at the front of the race to become a battery and technology powerhouse.
This news is a major milestone in Britishvolt's mission to help car makers on their roadmap to improved electrification and demonstrates the huge demand for batteries in the Race to Zero.
Graham Hoare, President of Global Operations, Britishvolt:
"UKBIC is an essential ingredient in BV's accelerated roadmap to market, providing a platform and environment that delivers high quality development cells in a time period that would be almost impossible in other territories. We are extremely pleased with the service offered by UKBIC and the promising results we're seeing.
By working with our customers early we can offer flexibility and specific attributes linked to their application requirements. This is a vital USP and signals that the age of "off the peg" battery production is no longer suitable for all.
This is further endorsement of the work the UK Government has done to help develop the world's best battery ecosystem and accelerate Britain into pole position in Europe. Low carbon, sustainable battery cells, and associated R&D, are the essential ingredients on the glidepath to net zero. Only responsibly produced batteries will lead to a successful energy transition."
Jeff Pratt, Managing Director, The UK Battery Industrialisation Centre:
"We're delighted to be entering into a two-year, multimillion pound agreement with Britishvolt to develop, assemble and manufacture their next generation sample cells for mass production and commercialisation. The manufacture of low carbon battery cells are vital for a successful energy transition to Net Zero. We are here to support UK companies scaling up their battery production and up skilling their workforce, and we welcome the opportunity to support Britishvolt on their journey."
Dr Allan Paterson, Chief Technical Officer, Britishvolt:
"This is an incredibly exciting achievement, allowing us to successfully scale up our tailormade battery cells, designed specifically for customer requirements. The UK ecosystem for battery development has enabled us to get to this stage we are immensely pleased to announce the relationship with UKBIC that will support our development activities going forward."
Who is UKBIC? 
The UK Battery Industrialisation Centre (UKBIC), which was opened by the Rt Hon Boris Johnson, the Prime Minister in July 2021, is a national battery manufacturing development facility providing battery manufacturing scale-up and facilitating upskilling in the battery sector. The publicly-funded facility welcomes manufacturers, entrepreneurs, researchers and educators, and can be accessed by any organisation looking to scale battery technologies – if that technology will bring green jobs and prosperity to the UK. The state-of-the-art facility – described by the Prime Minister as "a beacon of innovation and ingenuity" – has been developed to support UK industry to bring to market battery technologies for future electrification.
In addition to funding from the Faraday Battery Challenge through UK Research and Innovation, UKBIC is also part-funded through the West Midlands Combined Authority.  The project has been delivered through a consortium of Coventry City Council, Coventry and Warwickshire Local Enterprise Partnership and WMG, at the University of Warwick.  UKBIC was created in 2018 following a competition led by the Advanced Propulsion Centre with support from Innovate UK.
Britishvolt story to date:
Britishvolt is on target to responsibly manufacture some of the world's most sustainable, low carbon, sustainable, battery cells on the site of the former Blyth Power Station in Cambois, Northumberland.
The development is a major boost for Northumberland and Britain and will bring around 3,000 direct highly-skilled jobs and another 5,000+ in the associated supply chains.
Advanced works started on the site in September 2021, following a unanimous planning decision approval. The project will be built in phases, to keep up with technology advancements, and will have a total capacity of over 30GWh by the end of the decade.
At capacity, the Gigaplant will produce enough cells for over 300,000 electric vehicle battery packs per year, intended primarily for the automotive industry.
It will be the first large full cycle Gigaplant in the UK.
Britishvolt believes that locally produced, low carbon, sustainable, responsibly manufactured battery cells can literally help save the planet. The time has come to transition from fossil fuels to clean, renewable, low carbon electricity.
Ends.
Notes to Editors
For more information please contact:
Ben Kilbey, Britishvolt's Chief Communications Officer:
[email protected] +44 7305 032904
About Britishvolt
Britishvolt is Britain's foremost investor in battery cell technologies and research and development. It is dedicated to developing the future of electrified transportation and sustainable energy storage, producing best-in-class, low-carbon, sustainable, responsibly manufactured lithium-ion battery technologies.
Britishvolt's aim is to establish the UK as the leading force in battery technology, and associated ecosystem infrastructure. It is working with leading strategic partners/suppliers to achieve this, as it is of paramount importance to the future of the UK automotive industry and the overall economic and industrial health of the country. The company is built on a foundation of ESG Principles and Commitments.
Britishvolt believes that the UK is the right place for its initial investments because of the strength of its automotive and renewable energy industry alongside its expertise and history in industrial and academic battery R&D. As well as the UK Government's foresight in creating a world-class battery ecosystem.
Quarter four 2023/early 2024 has been targeted as the start of production of Phase One of Britain's first full-scale Gigaplant situated on the old coal stocking yard of the former Blyth Power Station in Cambois, Northumberland.
Safe Harbour.
Certain statements in this press release concerning our future growth prospects are forward-looking statements regarding our future business expectation intended to qualify for the 'safe harbor' under the U.S. Private Securities Reform Act of 1995, which involve a number of risks and uncertainties that could cause actual results to differ materially from those in such forward-looking statements. The risks and uncertainties relating to these statements include, but are not limited to, risks and uncertainties regarding fluctuations in earnings, fluctuations in foreign exchange rates, our ability to manage growth, competition including those factors which may affect our cost advantage, equipment procurement, wage increases, our ability to attract and retain highly skilled professionals, time and cost overruns on fixed-price, fixed-time contracts or time and material construction contracts, customer concentration, restrictions on immigration, industry segment concentration, our ability to manage international operations, reduced demand, disruptions in telecommunication networks or system failures, our ability to successfully complete and integrate potential acquisitions, liability for damages related to battery service agreements, the success of the companies in which Britishvolt has made strategic partnerships, withdrawal or expiration of governmental fiscal incentives, political instability and regional conflicts, legal restrictions on raising capital or acquiring companies and unauthorised use of our intellectual property and general economic conditions affecting our industry. In addition, please note any forward-looking statements contained herein are based on assumptions we believe to be reasonable as of the date of this press release.