Echion Technologies and CBMM partner to build 2000 t/year manufacturing capacity for anode grade niobium oxides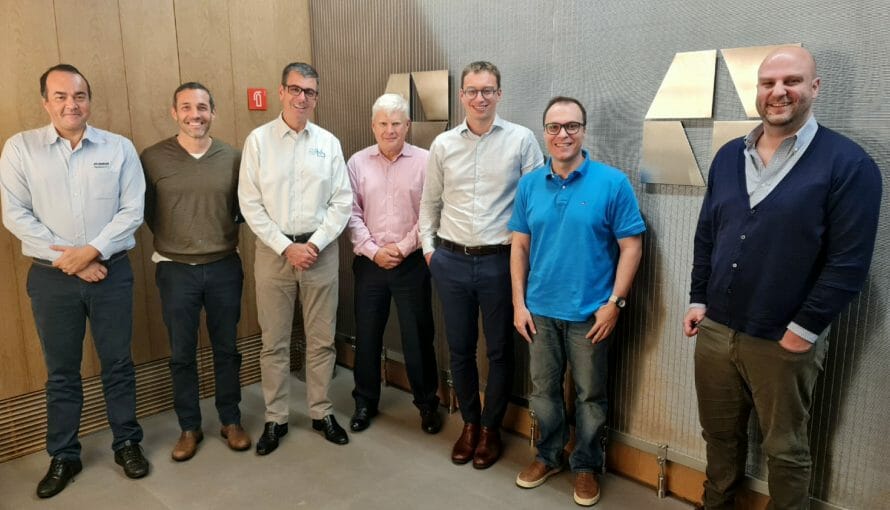 Battery materials innovators, Echion Technologies (Echion) and the world's leading supplier of Niobium products and technology, CBMM have announced a multi-year manufacturing partnership. The partnership will see the construction of a new 2000 tonne per year facility in Araxá, Brazil, to supply, at scale, niobium oxides anode grade to be applied in Echion´s safe, fast-charging and long-life XNO® battery anode material.
The facility; due to open in early 2024, will have the capacity to supply material equivalent to 1GWh of battery cell production. This positions Echion as the first in the market to guarantee the commercial supply of niobium-based battery anode oxides and will allow it to meet the large and growing demand for industrial electrification applications.
Echion's niobium-based anode material, XNO® delivers lithium-ion battery performance highly suited for industrial, commercial and high value applications that demand the highest up-time, lowest total cost of ownership and highest performance. XNO® enables lithium-ion batteries that can safely charge in less than 10 minutes, maintain high energy densities even at low temperatures, and deliver high power across a cycle life of more than 10,000 cycles. Applications powered by XNO® include battery electric and hybrid trains, mining haul trucks, high-demand buses and delivery vehicles as well as applications in motorsport and space.
The Echion – CBMM manufacturing partnership means that cell manufacturers and OEMs can be assured of prompt availability of large-scale, high-quality supplies of anode active material as they electrify their products.
Jean de La Verpilliere, CEO of Echion, said: 'We are very pleased to announce the signing of the manufacturing deal with our partners CBMM. It signifies the next step in our longstanding relationship with CBMM and will allow us to serve the huge global demand for our fast charging, cost effective and safe battery anode materials. The strategic partnership between Echion and CBMM will make a significant impact on building a sustainable and efficient electric future."
With a strategy of having 25% of its revenue coming from non-steel products by 2030, CBMM will invest US$ 80 million in the expansion of its entire Niobium oxides production line, which will include this new facility. The investment will allow total production of 3,000 tonnes of Niobium oxide battery grade in 2024 for applications in the lithium-ion battery segment for high-power, long-life, safer, and ultra-fast charging technologies following the global mega trend of electrification. This investment is in line with CBMM strategic growth plan to reach 40,000 tonnes of Niobium oxide capacity in 2030.
Rogério Marques Ribas, Head of Battery Products at CBMM, said: "In 2021 CBMM has invested in Echion through our New Businesses area, and this new partnership is aligned with the company's strategic growth plan, which has the Battery Program as one of the pillars for business diversification following the global megatrend of electrification. We are proud with the validation of the Niobium technology as a solution to the challenges posed by this industry and that we are taking another step in the supply chain, approaching the moment when we will have large-scale products available on the market."
To find out more about Echion's Niobium-based anode materials, visit: https://echiontech.com/
ENDS
Photo caption: Members of CBMM and Echion Technologies senior management teams. (Pictured L – R)
Rogério Marques Ribas, Head of Battery Products, CBMM
Alex Amorim, CFO, CBMM
Ricardo Fonseca de Mendonça Lima, CEO, CBMM
John Halfpenny, Executive Chairman, Echion Technologies
Jean de La Verpilliere, CEO, Echion Technologies
Rodolfo Forti, Financial Manager, CBMM
Rodrigo Amado, Head of Strategy and New Business, CBMM
About Echion Technologies LTD
After 6 years of development, Echion (Cambridge, UK) is proud to launch its XNO™ anode materials, now available at scale to cell manufacturers looking to build Li-ion cells with market-leading safety, cycle-life, and fast-charging capabilities. Echion XNO™ materials are based on proprietary mixed niobium oxide compositions and microparticle designs protected by 13 international patent families and are now being scaled-up to the multi-thousand tons/year production scale.
Our differentiated technology helps cell manufacturers gain a technical and commercial advantage in high-value, fast-growing markets where end-users require the safety, low total cost of ownership, and unique performance mix offered by our XNO™ anode materials. This includes industrial and commercial e-mobility markets: rail, marine, AGVs, mining trucks and other off-highway vehicles, opportunity-charging e-buses and other high-utilisation EV fleets. Our materials also provide a unique value proposition for the micro-battery market and specific applications for the ESS, motorsports, and medical, markets.
Echion information to the press
For more information, or to request hi-res images or interviews, please contact Tom Evans [email protected] 01223 421834 or Rick Newman [email protected] 01223 421846
About CBMM
CBMM is the world leader in the production and commercialization of Niobium products and has been in the market for over 60 years. CBMM is headquartered in Brazil, with subsidiaries in the United States, the Netherlands, Singapore, and Switzerland with representative offices in China. CBMM manufactures and supplies Niobium products and develops technology related to Niobium product applications for the infrastructure, mobility, aerospace, health, and energy sectors. CBMM historically has production capacity which exceeds the global demand for Niobium products. The company counts on robust logistics infrastructure in all continents, serving more than 400 clients in 50 countries. Its business model is guided by solid corporate governance and is based on guaranteed supply, innovation, and development of new technologies in partnership with the most renowned research centers worldwide.
Find out more about Niobium technologies
Website: www.niobium.tech
LinkedIn: Niobium.tech
Instagram: @Niobium.tech
Twitter: Niobium_Nb
Youtube: Niobium.tech
CBMM information to the press
Oficina Consultoria – [email protected]
Conscious Communications
St John's Innovation Centre, Cowley Road, Cowley Road, Cambridge, CB4 0WS
United Kingdom

For all inquiries, please contact us at: [email protected]

If you would like to opt out of future emails, please unsubscribe