Echion's XNO® achieves unmatched performances in 4690 cylindrical cell design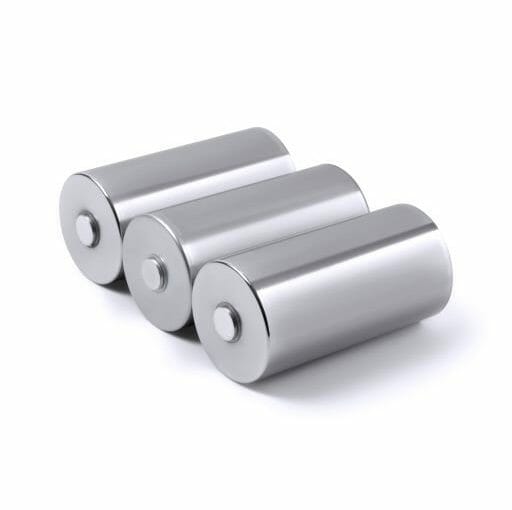 High performance battery cell manufacturer EAS Batteries GmbH (EAS) has achieved an unmatched combination of performances for a lithium-ion battery with its Echion Technologies XNO® powered, 4690-format cylindrical cell design.  The cell features a symmetrical 7C continuous power and charging rate capability combined with an energy density exceeding 300Wh/L. The cycle life of the first design iteration based on the first thousand cycles (87% retention capacity), is on track to achieve at least 2,000 cycles. This result is consistent with other cells developed with XNO® which have gone on to achieve over 10,000 cycles in subsequent iterations. The work by EAS highlights Echion Technologies' XNO® as the anode material of choice for lithium-ion batteries to power the toughest industrial and commercial applications.
The 4690 cells leverage EAS' expertise in high power battery cells, utilising their tabless design which allow the cylindrical cells to accommodate the very high charge and discharge rates enabled by XNO®. This results in a very low AC and DC impedances (0.5mΩ and 2.0mΩ respectively), minimising the heat generated at high charge and discharge rates. This low resistance also increases the accessible energy per cycle and prolongs overall cycle life.
The combination of high energy density, fast charging rates, high power, long cycle life and safety are desired by high duty cycle industrial and commercial applications. These requirements are not readily met by existing lithium-ion battery chemistries. Use cases include mining haul trucks, off-highway vehicles, and trains. For these, the ability to meet volume and mass packaging constraints, maintain high fleet productivity and achieve a low and stable total cost of ownership are key requirements for viable electrification. Battery cells such as the 4690 cells powered by XNO® can provide this. Already, strong OEM interest in XNO® have resulted in the first small scale production batch being fully allocated for performance evaluation.
Michael Deutmeyer, Managing Director of EAS Batteries GmbH, said: "XNO® is a promising anode material – and one which is of interest to our customers. We are pleased to have entered into further cooperation with Echion through this project."
Beyond the cell-level performances achieved in the 4690-form factor, the excellent processability of XNO® into electrodes was also confirmed by EAS.
The development of the 4690 cell was supported by project CASCADE, an Innovate UK Faraday Battery Challenge Round 4 project. The Faraday Battery Challenge is part of the Industrial Strategy Challenge Fund, delivered by Innovate UK and the Engineering and Physical Sciences Research Council (EPSRC) on behalf of UK Research and Innovation (UKRI).
Dr Loubna El Ouatani, Chief Product Officer of Echion Technologies, said: "This demonstrator cell, developed and produced by EAS showcases performances enabled by XNO®, which are well matched to industrial and commercial applications with high duty cycles. By achieving over 300Wh/L energy density, 7C/7C charge/discharge with 95% capacity retention and very high cycle life, we have demonstrated how XNO® offers superior capabilities vs. LFP and LTO cells.  By that I mean we have both a continuous and pulse charge that is superior to LFP. And an energy density level not matched in LTO cells. Importantly, this was done in a large, 20Ah cell, in a standard 46xx series design, which shows that these performances can be readily attained by commercial cell manufacturers."
Further coverage of this cell can be found at https://eas-batteries.com/
Summary of 4690 Cell Specifications
Nominal Capacity (C/10) 20Ah
Nominal Voltage 2.24V
Voltage Cut-Off Charge 3.0V
Voltage Cut-Off Discharge 1.0V*
Max Continuous Current Charge/Discharge 140A
Max Continuous Power 1.7kW/L   0.6kW/kg
AC Impedance (1kHz) 0.5mΩ
DC Impedance (10 s/ 50% SoC) 2mΩ
Volumetric Energy Density 300-310Wh/L
Gravimetric Energy Density 100Wh/kg
Form Factor 4690 Cylindrical
Weight 450g
*97.5% capacity retention is achieved at 1.5V
Source: Echion's XNO® achieves unmatched performances in 4690 cylindrical cell design  — Echion Technologies