Ecobat Solutions completes UK Re-brand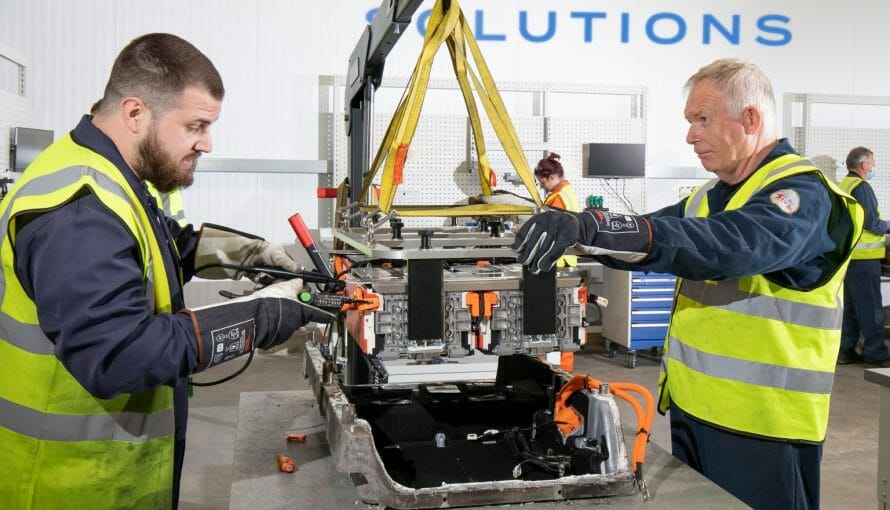 West Midlands firm looks to the electric vehicle future
Nearly 2500 EV batteries already processed into recycling and second-life
Advanced battery diagnosis, re-engineering and recycling facility drives sustainability
Ecobat Solutions UK has announced the completion of its re-brand, with a fresh look marking the company's future intentions as a market leader in the advanced battery (including electric vehicle (EV) batteries) re-engineering and recycling industry.
The Darlaston-based company, a trading entity of Ecobat Resources UK Ltd, is a well-established recycler of automotive and domestic batteries and employs over 85 staff in the UK alone. Ecobat Solutions has made a significant £2m+ investment in equipment and know-how to develop its EV battery processing capabilities in the UK.
Having completed an on-site re-branding project and the associated legal processes, Ecobat Solutions is now one of Ecobat's diverse business units, all of which contribute to a sustainable future by transforming energy storage.
Dr Simon Cupples, Managing Director and Vice-President of Ecobat's European advanced battery business, commented, "Ecobat Solutions has the advantage of offering a fully-integrated solution across EV battery diagnostics and disassembly services, alongside a full logistics and storage capability. We deal with a full range of advanced battery chemistries and conditions, including end-of-life, damaged, defective and critical batteries from electric vehicles. Our re-brand is a statement of intent and a sign to the industry that we are capable – right now – of offering this integrated collection, re-engineering and recycling proposition, led from the UK and developing across Europe too."
Ecobat Solutions' UK facility has a processing capacity for up to 15,000 batteries annually through its advanced diagnostics and disassembly centre. Additionally, it will soon be operating small-scale stage one recycling up to 500 MT per year, prior to expansion into commercial grade recycling of 10,000 MY per year in 2023. The Ecobat Solutions Europe GmbH facilities in Hettstedt, Germany, currently provide primary recycling up to 3200 MT/year. Both sites will expand significantly in the next 18 months, to deliver a combined capacity of over 30,000 batteries per year and 30,000 MT/year of stage one recycling by the end of next year.
"We are very proud to have already collected, diagnosed and processed approaching 2500 EV batteries, plus modules, at Ecobat Solutions in the last 20 months", continued Dr Cupples, "We are looking forward to announcing further developments this year, including major investments which enable us to lead the way in providing compliant and safe solutions to manufacturers' supply chains for years to come".
Manufacturers, not just in automotive but across aviation, marine and industrial, are pushing hard towards 2030's targets for EV adoption, electrification and carbon-neutral status. Prototyping and warranty obligations create the need for a flexible, external resource in the early stages of development, while the supply chain for second-life and end-of-life batteries is also developing rapidly
Ecobat Solutions offers a portfolio of services to help OEMs meet their legal obligations, remain compliant with battery transport regulations and handle critical incidents discreetly. Services are provided at Ecobat Solutions' licensed and permitted sites, while engineers are equipped to visit customer premises if required.
With the re-brand and re-naming complete, Ecobat Solutions is already working with its stakeholders globally to drive sustainable change and to make the business of batteries better – economically, environmentally and sustainably.
About Ecobat
Ecobat is the world's biggest recycler of batteries. We specialise in processes that harness precious resources more efficiently. We invent new solutions to improve products' reusability. And we do it all with an emphasis on the good of our employees and the environment. Ecobat doesn't make batteries; we make the business of batteries safer and more sustainable.
We are working toward a circular energy economy where any battery, anywhere, can go back to work. We believe that only by recycling these finite resources can we meet the infinite potential of electrification – for technology, for transportation and for tomorrow.
So, we are meeting essential energy storage needs today, as only Ecobat can: respectfully, always considering people and the planet; responsively, seizing opportunities with scale and experience; and resourcefully, relentlessly exploring ways to maximise resources.
Ecobat is transforming energy storage.
Ecobat Solutions: Transforming the Future of Energy Storage

We leverage our deep history, extensive resources and broad infrastructure, enabling us to adapt swiftly to the rapidly changing requirements of the battery storage and recycling industries.

Ecobat Logistics: Transforming the System of Energy Storage

We manage the collection of end-of-life batteries as part of our commitment to making the business of batteries safer and more sustainable for a circular energy economy.

Ecobat Resources: Transforming the Materials of Energy Storage

We use our capability and technology to recycle materials without compromising performance while continuing to reduce overall impact.

Ecobat Battery: Transforming the Market of Energy Storage

We manage the procurement, sale, and distribution of renewable power generation solutions that are collected and recycled by Ecobat in the circular energy economy.
For more information on how Ecobat can help your business, visit www.ecobat.com/solutions or mail [email protected]
Photo Link
Media Contact
Peter Coleman, EU Marketing Manager
T:  +44 (0)121 568 3254
M: +44 (0)7500 88 29 72
Ecobat Solutions UK, Crescent Works Industrial Park, Willenhall Road, Darlaston, West Midlands, WS10 8JR, UK