Fortescue to expand the production of batteries and electric powertrains in the UK with new WAE Oxfordshire facility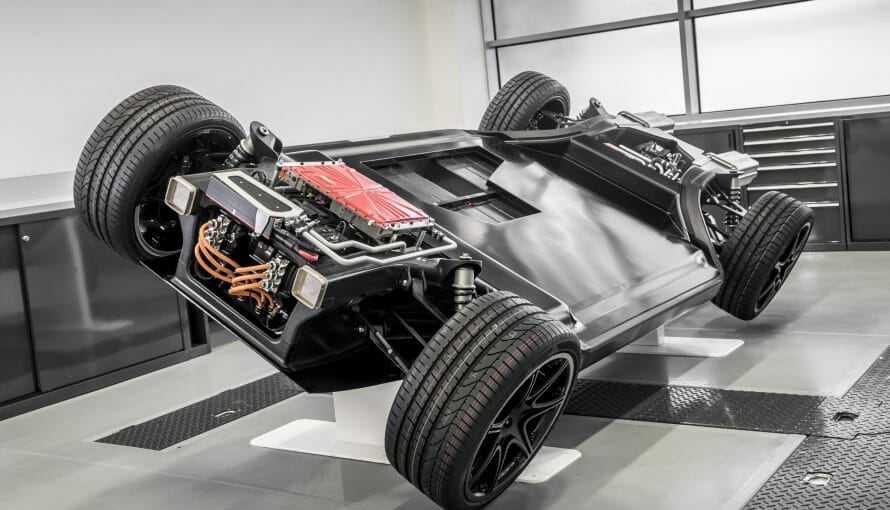 Fortescue is significantly expanding its battery and electric powertrain production operations in the UK with the announcement of an additional WAE state-of-the-art facility in Oxfordshire
The new facility will create more than 120 new jobs and will be focused on production of a wide range of zero-emission products for the off-road sector including trucks and trains
It will form part of a new global business aimed at driving decarbonisation in all fields of economic activity, while building sovereign capabilities in emerging technology.
WAE is recruiting now across all disciplines. Those interested in applying can visit: https://wae.com
Media assets can be downloaded here: https://bit.ly/WAE_Assets 
Fortescue is significantly expanding its battery and electric powertrain production operations in the UK with the announcement of an additional state-of-the-art facility in Oxfordshire, creating more than 120 jobs.
Fortescue Chairman Andrew Forrest said the expansion is part of Fortescue's commitment to grow its British presence through the recent integration of iconic British manufacturers WAE (formerly Williams Advanced Engineering).
"With Fortescue's investment, British engineering will be at the cutting edge of the green energy economy with WAE's battery systems providing world leading technology to the entire global industrial sector," Dr Forrest said. "It is heartening to have the UK's Trade Secretary today at our factory in Oxfordshire to support this message of British technology excellence for both its people and its highly attractive working environment."
Following entry-into-force of the Australia-UK Free Trade Agreement (FTA), Fortescue will open a new state-of-the-art site in Banbury, Oxfordshire, significantly expanding its UK manufacturing capability, supplying advanced batteries and electric powertrains globally.
The new location will be focused on production of a wide range of zero-emission products for the off-road sector including trucks and trains. It will form part of a new global business aimed at driving decarbonisation in all fields of economic activity, while building sovereign capabilities in emerging technology.
The factory will cover over 13,500m2 in total and employ over 120 highly skilled engineers, technicians, apprentices and graduates, with recruitment for the industrialisation programme starting now.
This announcement ensures Australia and the UK build sovereign capability in an area of central importance to future economic development and is another key win of the UK Government's free trade agenda.
A hiring campaign has started now and interested applicants can go to https://wae.com
The integration follows Fortescue gearing up to meet growing global demand for the development, manufacture, and supply of advanced electrification technology solutions to the off-highway sector.
This announcement follows the entry-into-force of the historic Australia – UK Free Trade Agreement which sees a key focus on next-generation manufacturing and capabilities.
The new Banbury facility will operate alongside Fortescue's other Oxfordshire facilities including the Kidlington factory which will open later this year. The Banbury site, which covers 13,500m2, will be a purpose-built facility focusing primarily on manufacturing of heavy industry, electric/ zero-emission powertrain systems. It will offer automated assembly for battery modules and packs, assembly of power conversion and power systems, as well as truck and train production support.
The first prototype build is targeted for July/August 2023 with the first mining haul truck module due for completion in August 2023.
The site will officially open in 2024 and will create job opportunities across all levels, including apprentices and graduates, acting as showcases for a future rollout by WAE of further global high-tech manufacturing hubs.
Business and Trade Secretary Kemi Badenoch said:
"Fortescue's investment in Oxford shows how this government is creating the right conditions to encourage cutting-edge advanced manufacturing companies to invest in the UK. "This new state-of-the-art site will bolster the UK's electric vehicle supply chain and create over 120 highly skilled jobs, helping to grow our economy."
ENDS
Notes to Editors
About WAE Technologies
WAE Technologies is a world-leading technology and engineering services business delivering pioneering innovation to improve performance, efficiency and sustainability to a global customer base.
Combining cutting-edge technological advances and he industry's best engineers with precision and speed to market derived from the ultra-competitive environment of motorsport, WAE's capabilities cover a wide range of disciplines.
The company provides ground-breaking innovation covering advanced battery and electrification technologies and product development; aided by advanced simulation, testing, rapid prototyping and volume manufacturing. Working in close collaboration with our customers, WAE remains committed to meeting the continued sustainability challenges of the 21st Century.
The company can trace its foundations back to 2010 when Williams Grand Prix Engineering Limited began diversifying its operations; a division which later became Williams Advanced Engineering. WAE has grown from an embryonic business in 2010 to an independent company which employs approximately 600+ people engaged in leading-edge and transformative technologies for a growing list of Tier 1 clients.
Following the acquisition by Fortescue, which completed in March 2022, WAE will continue to service its existing customers and commercialise new technology opportunities, in addition to playing a key role in supporting Fortescue's global decarbonisation strategy.
The Company was honoured with the Queen's Award for Enterprise in Innovation 2018.
For more information see www.wae.com, follow on Twitter, LinkedIn and Instagram.
CLAIRE ROSE
HEAD OF MARKETING AND COMMUNICATIONS
WAE TECHNOLOGIES LIMITED
+44 (0) 7483 014 046
[email protected]
Source: Fortescue to expand the production of batteries and electric powertrains in the UK with new WAE Oxfordshire facility | Newspress UK