Lotus to collaborate with Britishvolt as sketch of future EV sports car is released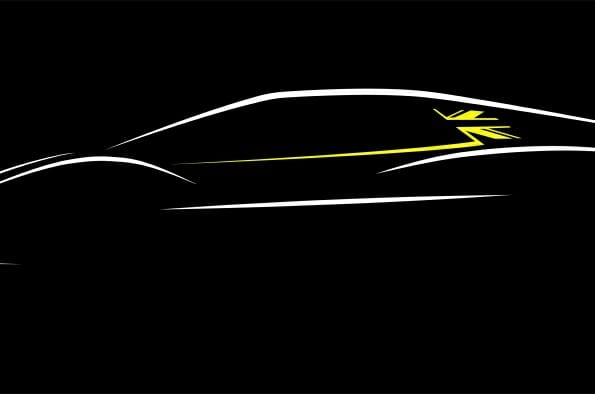 Lotus and Britishvolt sign MoU to collaborate on advanced EV technology
Partnership to co-develop innovative EV package to power new generation EV sports car
Design sketch provides first clues to new Lotus EV sports car
Hethel, UK – 28 January 2022
Lotus and battery cell expert Britishvolt have signed an MoU to collaborate on the research and development of advanced new EV technology.
The partnership will focus on the co-development of an innovative new battery cell package to power the next generation of electric sports cars from Lotus. The package is set to feature in a new sports car, powered by Britishvolt cells and utilising advanced electric propulsion technologies developed by Lotus. An official design sketch provides the first clues to a new Lotus EV sports car.
Britishvolt is the UK's foremost investor in battery cell technologies and associated R&D to create homegrown intellectual property. Key focuses of the partnership will be fast-charging, optimising energy density and weight reduction.
Development work on the project will benefit from the close proximity of Lotus and Britishvolt's R&D centres of excellence in the West Midlands, the UK's 'golden triangle' of battery excellence. The Lotus Advanced Technology Centre (LATC) opened in Wellesbourne in 2020 as the global headquarters of Lotus Engineering, the consultancy division of the business.
The collaboration with Britishvolt is another significant development in the ongoing transformation of Lotus, from a UK sports car company to a global and all-electric performance car business and brand. It follows a £100m investment by Lotus in its UK facilities, which includes manufacturing centres at Hethel for the Evija pure electric hypercar and Emira sports car – future-proofing the world-renowned and innovative UK high-performance auto sector and the thousands of jobs that it supports.
Matt Windle, Managing Director, Lotus Cars, commented: "Lotus is delighted to be collaborating with Britishvolt to develop new battery cell technology to showcase the thrilling performance that a Lotus EV sports car can deliver. These are the first exciting steps on the journey towards an all-new electric sports car from Lotus, and yet another step towards the transformation towards sustainable, renewable electricity stored in batteries."
He added: "Last year we committed Lotus to a pure electric future, and in the first month of this year we announce another significant step on that journey. In the coming months we will be unveiling the Type 132, an all-new and all-electric Lotus SUV and we've confirmed three more EVs are on the way."
All future Lotus cars will be pure electric and inspired by the Evija, deliveries of which commence this year as the world's first British electric hypercar.
Britishvolt is on target to responsibly manufacture some of the world's most sustainable, low carbon battery cells on the site of the former Blyth Power Station coal stocking yard located in Cambois, Northumberland.
The development is a major boost for Northumberland, and indeed the country, and will bring around 3,000 direct highly-skilled jobs and another 5,000+ in the associated supply chains.
Advanced works started on the site on September 6, 2021, following a unanimous planning decision approval earlier in the year. The project will be built in phases, to keep up with technology advancements, and will have a total capacity of over 30GWh by the end of the decade onwards.
Ends
Notes to Editors
For more information, please contact the Lotus Communications team:
James Andrew | Executive Director, PR and Communications

[email protected]


+44 (0) 7384 830903
Rob Borrett | Manager, PR Content and Launch Programmes

[email protected]


+44 (0) 7718 560789
Alastair Florance | Group PR Manager

[email protected]


+44 (0) 7802 918662
Richard Yarrow | PR Manager, News and Technology

[email protected]


+44 (0) 7471 994525
Samantha Thomas | PR Officer, Product Press and Digital Media

[email protected]


+44 (0) 7909 813785
The Lotus Media Site – contains news, images, specifications and full details of current models, as well as heritage cars and engineering technology.
For the latest news and information from the Lotus PR Team please follow:
Lotus PR Team | Twitter
Lotus PR Team | Instagram
For Lotus Cars social media please follow:
Lotus Cars is based in Hethel, Norfolk, UK, and is the global HQ for sports car and hypercar manufacturing operations, the Lotus Advanced Performance Centre and the iconic 2.2-mile test track. Lotus Cars builds world-class high-performance cars, born out of legendary success on the racetrack including 13 FIA Formula 1 world titles and many other championship honours. In July 2021 Lotus unveiled the all-new Lotus Emira, its last petrol-powered sports car and best-of-breed, and in July 2019 it launched the Evija, the world's first all-electric British hypercar. Customer deliveries of both cars will begin during 2022.
About Britishvolt
Britishvolt is Britain's foremost investor in battery cell technologies and research and development. It is dedicated to developing the future of electrified transportation and sustainable energy storage, producing best-in-class, low-carbon, sustainable, responsibly manufactured lithium-ion battery technologies.
Britishvolt's aim is to establish the UK as the leading force in battery technology, and associated ecosystem infrastructure. It is working with leading strategic partners/suppliers to achieve this, as it is of paramount importance to the future of the UK automotive industry and the overall economic and industrial health of the country. The company is built on a foundation of ESG Principles and Commitments.
Britishvolt believes that the UK is the right place for its initial investments because of the strength of its automotive and renewable energy industry alongside its expertise and history in industrial and academic battery R&D. As well as the UK Government's foresight in creating a world-class battery ecosystem.
Quarter four 2023/early 2024 has been targeted as the start of production of Phase One of Britain's first full-scale Gigaplant situated on the old coal stocking yard of the former Blyth Power Station in Cambois, Northumberland.