Lunaz grows production and workforce as new generation of buyers drives surge in demand for electric classic cars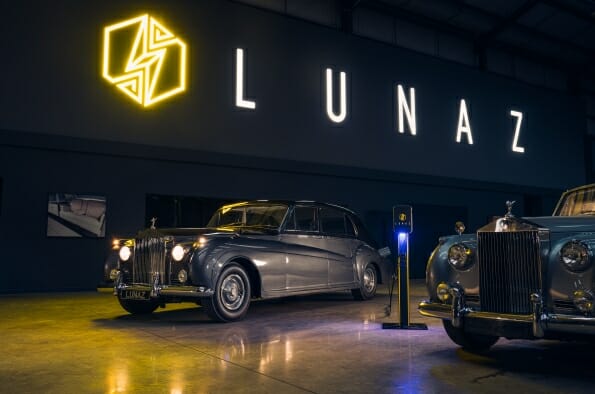 Lunaz among UK's fastest growing clean-tech companies as global demand surges for pinnacle British electric classic cars
Lunaz attracts millennial customer base who prioritise sustainability in the goods they purchase
Order books open for 2024 delivery after selling out of '22 and '23 production. Lunaz makes the world's first electric Rolls-Royce, Bentley, Aston Martin, Range Rover and Jaguar sportscars
Demand leads to the creation of new jobs. Workforce increases 500% in 12 months
Export success with significant sales in Europe, the United States and Asia Pacific
UK Manufacturing footprint to grow 400% in 2022
Resurgent hospitality industry driving demand for passenger-focused Bentley, Range Rover and Rolls-Royce models
Lunaz electric classic cars start at £295,000 for Range Rovers rising to £950,000 for Aston Martin DB6s
"Surging global demand for an electrified and remastered classic car by Lunaz is affirmation that clients are responding to a proposition that preserves the most celebrated cars in British automotive history while answering the pressing global requirement to transition to more sustainable practises. We are proud to introduce an entirely new and conscious audience to the pleasures of classic car ownership by answering the key questions of reliability, usability and sustainability. We are delighted to further the legacies of these beautiful vehicles in greater numbers in doing so creating highly skilled jobs and economic impact."
David Lorenz, Founder and CEO, Lunaz Group
BACKGROUND:
Lunaz, the world's leading maker of restored, re-mastered and electrified classic cars will release more build allocation to meet soaring demand for its stable of pinnacle British marques. Clients can now secure the first tranche of production for 2024 delivery.
The company, which builds its vehicles in a state-of-the-art facility in Silverstone, England will also increase production capacity to 110 restored, re-engineered and electrified vehicles every year. This represents a 50% in total build-slots versus 2020.
Lunaz announced in December last year the establishment of Britain's largest remanufacturing and electrification facility adjacent to its current home opposite the Silverstone Grand Prix circuit. This will take the company's total production space to 130,000 sq/ft over two sites, making it the largest employer and manufacturer in Silverstone's world-renowned Technology Cluster.
This expansion in total manufacturing footprint means Lunaz can meet ever-increasing global demand for its electric classic cars. This is driven by surging global demand from a new generation of pinnacle car buyers.
These women and men had previously dismissed the idea of owning a blue-chip classic because of issues around reliability, usability, and sustainability. As an entirely up-cycled, clean-air expression of a classic car, Lunaz answers these questions, making classic car ownership a relevant proposition for future generations.
The company now boasts a line-up that represents the most celebrated and revered cars in British automotive history. This includes Range Rovers from the Classic Era (1969 to 1994), Bentley Continental S1, S2 and S3s, Jaguar XK120, 140 and 150s in both coupé, drophead coupé and OTS body-styles, Rolls-Royce Silver Clouds, Rolls-Royce Phantoms and most recently Aston Martin DB6s.
Prices start at £290,000 + local taxes for restored, re-engineered and electrified Range Rover Classics. Bentley Continentals and Rolls-Royce SIlver Clouds start at £350,000 + local taxes, Jaguar XKs start at £375,000 + local taxes, Rolls-Royce Phantom Vs start at £550,000 + local taxes while Aston Martin DB6s begin at £950,000 + local taxes.
Lunaz opened order books in early 2020. Since then it has grown its workforce 500% to meet demand and now employs more than 120 highly skilled engineers, designers, craftspeople, restoration specialists and technicians. They have been drawn from some of the leading names in luxury automotive and engineering including: Aston Martin, Arrival, Bentley, Ferrari, McLaren, Rolls-Royce, Jaguar Land Rover, Williams F1 and Renault F1. 
Since then its cars have garnered global acclaim with the Bentley S2 Continental Flying Spur awarded by the UK's Top Gear Magazine in its EVs of the year issue.
LUNAZ: ONE OF BRITAIN'S FASTEST GROWING 'CLEAN-TECH' COMPANIES
Anticipated demand for pinnacle classics married to the upcoming market introduction of the company's first industrial vehicle electrification projects will see the number of employees grow to more than 350 within the next year. This rapid expansion has been underpinned by significant investment from some of the leading names in British industry. This includes growth funding from the Reuben, Barclay and Dallal families who joined David Beckham in backing one of Britain's fastest growing clean-tech companies.
SUSTAINED GLOBAL DEMAND
Lunaz sells cars in every major global territory and is becoming a major UK export success with significant growth across the US, Europe and Asia Pacific. This includes the resurgent hospitality sector following the re-opening of leading hotels, restaurants and casinos. Lunaz will shortly make first deliveries of Rolls-Royce Phantoms and Clouds to some of the most celebrated names in global hospitality. Like its private customers, they are drawn to a pinnacle electric classic due to continued legislative hostility towards Internal Combustion Engine (ICE) equivalents, in particular in the city centres where many of them are situated. Individuals across the world are also drawn to the idea of a fully upcycled, clean-air vehicle as an alternative to buying new.
Indeed, a study from Nielsen showed that 73% of Millennial respondents were willing to spend more on a product if it comes from a sustainable or socially conscious brand. This is reflected in Lunaz' success in attracting an entirely new audience to classic car ownership with the vast majority of its customers coming from younger age-groups outside of the typical luxury car buyer profile.
This has led to the creation of an entirely new designation of vehicle by Lunaz, a uEV™ (upcycled electric vehicle). The company operates within the principles of the circular economy with passenger vehicles representing a total embedded carbon saving of more than 80% versus buying new.
ENGINEERING: FURTHER THE LEGACIES OF BRITAIN'S AUTOMOTIVE ICONS
The engineering process is led by Jon Hilton, Lunaz' Managing Director and Technical Lead. He blends experience at the pinnacle of motorsport, winning the 3 F1 World Championships with a career pioneering the use of alternative powertrains in mainstream automotive.
The process of conversion starts with an exhaustive inspection. Each corner is then weighed to understand the original weight distribution to the gram. This information informs decisions on chassis setup, powertrain packaging and suspension. The internal combustion engine and associated systems are then sensitively removed and stored on behalf of the client before the chassis is prepared for re-engineering and electrification.
The car is then 3D scanned; this allows the engineers to create detailed CAD models to ensure technical perfection in every step of the process. The electric powertrain has been engineered entirely in-house under Hilton's technical leadership.
The company has developed a modular technical approach meaning the powertrain can be adapted to the exact requirements and characteristics of multiple marques and applications. Details of this are closely guarded but Lunaz stands alone in the classic car electrification space in deriving its cells, inverters and motors from European Tier 1 Suppliers. This counters an approach employed by many in adapting existing battery cells from crashed or disposed of passenger cars.
Luanz' team of software engineers then programmes its powertrain to meet the dynamic requirements of each marque. Traditional coachbuilding and restoration skills are then employed and the car is stripped down to a bare metal shell. Even imperceptible body defects are addressed by hand before the surface finish process begins.
Quality is ensured throughout every touchpoint in the process because every craft, restoration and technical department sits under one roof at Lunaz.
DESIGN:
"Our work remastering these most significant automotive icons represents the essential preservation of objects with weight far beyond the sum of their parts as classic cars. We are proud to write new chapters in these most extraordinary legacies."
Jen Holloway, Design Director, Lunaz Design 
Each electrified classic car by Lunaz represents an authentic remastering of the original. Customers are afforded an unrivalled scope of personalisation. To deliver this, Lunaz has gathered a styling team drawn from some of the most celebrated names in automotive and industrial design.
This is led by Design Director Jen Holloway. Her background as a lead in Aston Martin's Q-Branch provides a unique sensitivity to the heritage and aesthetic sensibility to her work furthering the legacies of the most revered marques in automotive history.
Jen and her team lead clients through a process that allows every interior and exterior surface, material and function to be re-imagined. This takes place in a purpose-built design and commissioning space at Lunaz' HQ at Silverstone. The process begins with a consultative exploration of the tastes and requirements of the client. Material and colour palettes are explored and visualised using both 2D sketch work and advanced 3D modelling.
At this stage decisions on materiality are made. Lunaz offers both a traditional, more restoration focused route with original build-sheets consulted. However, for many clients a more contemporary evocation of classic style is required. This process also allows the Design Team to explore new material palettes that includes the provision of an interior free from animal-derived materials.
Indeed, the overall philosophy of 'upcycling' that informs the Lunaz proposition is expressed in an array of materials that take what already exists and finds new purpose. This can even extend to the specification of carpets which are woven from fishing nets recovered from the sea into a feature that matches more traditional lambswool for comfort and tactile quality. 100% recycled textiles are offered throughout the cabin environment, in harmony with bio-content constructed materials.
A commitment to reducing waste and impact wherever possible informs the process throughout. For example, substrates are painstakingly restored in-house within a specialist fabrication department. Their work is then enhanced by Lunaz' collective of highly skilled trim specialists drawn from the highest end of automotive restoration, fine furniture making, couture and accessories.
The result is an entirely renewed interior, crafted with the requirements of contemporary use but with a profound sensitivity to each individual vehicle's heritage. This extraordinary attention-to-detail even extends to the function and placement of switches and dials. Read-outs for battery status and other contemporary functions are seamlessly integrated in the spirit of the original aesthetic. Even the weight, form and functionality of the original switches and buttons are replicated throughout to ensure authenticity at every level of the driving experience.
MORE INFORMATION:
MEDIA CONTACT:
Email: [email protected]
Telephone: +44 (0) 203 955 6568
NOTES TO EDITORS:
THE EXPANDED LUNAZ GROUP:
The Lunaz Group remanufactures and electrifies passenger, commercial and industrial vehicles through three distinct companies:
Lunaz Design: Revives, re-engineers and converts pinnacle classic cars to electric powertrains .
Lunaz Applied Technologies: Upcycles and re-engineers specialist industrial fleet vehicles to factory new standard and converts them to the Lunaz proprietary electric powertrain.
Lunaz Powertrain: Provides the Lunaz proprietary modular powertrain as a turn-key, white-label product for OEMs, Tier 1 suppliers and independent automotive engineering businesses.
Lunaz was founded in 2018 and following the launch of the world's first Bentley, Rolls-Royce, Range Rover and Jaguar sportscars secured growth capital investment in 2021 from leading institutional names including: the Barclay, Reuben and Dallal families and David Beckham.
ABOUT THE FOUNDERS: DAVID LORENZ
After the successful exit from his last business, David Lorenz sought to address the potential mass-redundancy of the 2 billion ICE vehicles that currently exist on the planet. Lunaz is his answer.
From these foundations Lorenz has strategically driven one of the fastest growing clean-technology businesses in the United Kingdom. In doing so he has inspired some of the country's most decorated and celebrated engineers and technical minds to join him in creating a modular and proprietary clean-air powertrain.
This will be the foundation for driving Lorenz's vision to remanufacture and electrify passenger, commercial and industrial vehicles of all sizes and specifications as a solution to the global drive towards decarbonisation.
Lorenz is married with one daughter, Luna who the company is named after.
ABOUT THE FOUNDERS: JON HILTON
The Lunaz Group Managing Director and Technical Lead is among the most highly regarded technical minds in his field. He built his reputation as Technical Director for Renault F1 winning Fernando Alonso's successive World Championships.
Hilton's career started by engineering the powertrains for a successful helicopter world speed record at Rolls-Royce PLC. He then moved to the development of powertrains for motorsport.
Hilton later founded his hybrid powertrains company to exploit the potential of applications beyond F1 by the introduction of new Kinetic Recovery Systems (KERS). It was here that he engineered pioneering hybrid powertrain conversions for performance passenger cars and industrial vehicles.
While developing this cutting-edge clean-air technology, Hilton also technically directed the first ever hybrid Le Mans entry for Hope Polevision Racing sparking a passion for alternative powertrains.
Source: Lunaz grows production and workforce as new generation of buyers drives surge in demand for electric classic cars | Newspress UK