Munters DSS Pro – The next level of dehumidification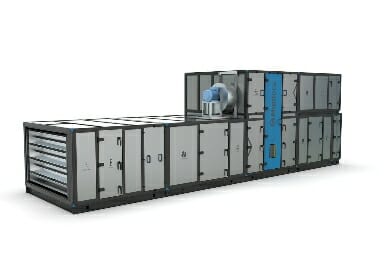 Munters DSS Pro represents an evolutionary leap forward from the market-leading Munters DSS system, with performance upgrades that make a real difference. It will provide users the right climate more efficiently than ever before.
Link here
https://www.munters.com/en/campaigns/airt-campaigns/munters-dss-pro-the-next-level-of-dehumidification/?utm_source=google&utm_medium=online-profile&utm_id=batterytechhub
Suitable for indoor or outdoor installation, Munters DSS Pro is designed for a wide range of industries that demand dehumidification efficiencies such as pharmaceutical, food, and battery applications.
Equipped with the Munters custom configured control system, the DSS Pro offers full function integration, delivering the perfect climate whenever and wherever it´s needed. It comes in twenty configurable sizes with three different desiccant rotor types.
The DSS Pro offers key energy-saving features. It consumes up to 30% less energy with its Green PowerPurge™ and when it's time to transition to renewable energy the DSS Pro is ready for a seamless switch.
Another positive energy saving feature is the new AirPro casing, an innovative enclosure that significantly improves durability, reduces air leakage, and reduces energy consumption.
When it comes to size, the DSS Pro offers a reduced physical footprint, which makes the system more convenient to install and can free up much-needed space that can be used to generate revenue.
Munters offers more than a benchmark dehumidification system with the DSS Pro. As a partner with the knowledge and expertise to ensure indoor climate is always exactly as it needs to be, Munters provides support from design and quotation to ongoing service from our offices all over the world.
"DSS Pro provides reliable and consistent operations, reduced system footprint and a positive effect on the bottom line", says Sander Hielkema, Product Manager Systems EMEA, Munters. "Our innovative and intuitive selection tool Genesys ensures you get the right Munters solution for your specific needs. It delivers all the technical specifications for installation, start-up and lifecycle of the product, right from the start. Changes are easily made with this smart tool, and we can serve our customers better and more efficiently. Developed for Europe and Asia, the system is the result of a true team effort with the world's best climate control engineers partnering with our customers to make this a reality," concludes Sander Hielkema.
Want to know more? Check out the Munters DSS Pro video here
https://www.youtube.com/watch?v=rjTt4y-yw84
Profile link – https://www.munters.com/en/campaigns/airt-campaigns/munters-dss-pro-the-next-level-of-dehumidification/?utm_source=google&utm_medium=online-profile&utm_id=batterytechhub