New additions to next-gen Thionyl Chloride battery family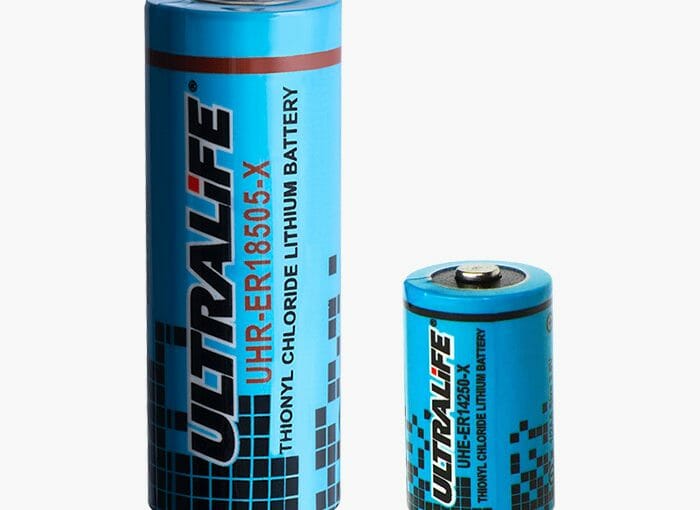 Two new Thionyl Chloride batteries offer rugged, high density portable power ~
Global battery manufacturer Ultralife Corporation has extended its ER Generation X family of Lithium Thionyl Chloride (LiSOCl2) batteries for critical applications, with two new products added to the range of rugged, energy-dense batteries. The new additions are the low rate UHE-ER14250-X 1/2AA size bobbin cell for asset tracking and more, plus the high-rate UHR-ER18505-X A size spiral cell for higher power applications (such as radio communications and cellular transmission).
The new ER Generation X batteries offer among the highest energy densities available on the market, 432 and 313 Watt-hours per kilogram (Whr/Kg) respectively, owing to their LiSOCl2 chemistry. Each product in the range also boasts a self-discharge rate of less than two per cent each year (in storage) and delivers a stable discharge voltage in temperatures spanning from -55 to +85 degrees Celsius.
Drawing on Ultralife Corporation's experience in serving mission critical applications in demanding sectors, the extended temperature range of the batteries is complemented by a robust hermetically sealed exterior. This is particularly crucial as non-rechargeable batteries, like these, are often left in remote or hard-to-access locations where charging would be impractical or impossible (such as on a mountaintop in a climate monitoring device or at sea in offshore instrumentation equipment and sonobuoys).
"Since its launch, the ER Generation X range has proven popular due to its reliable performance and versatility," explained Eric Lind, vice president of commercial operations and business development at Ultralife Corporation. "The latest additions provide even more options to support engineers working on the next generation of devices.
"For example, the A size cell is an ideal option for larger instrumentation applications that must be able to support real-time, high frequency communications. The 1/2AA size is ideal for devices that must be discrete, like asset trackers, due to its compact height of 25mm max. and 14.5mm max. diameter."
Ultralife's full range of ER Generation X batteries and other market leading products are available globally. In Europe, design engineers and OEMs can contact Accutronics, an Ultralife company, on +44 (0)1782 566 622 to discuss how the new products can support their projects. In the US, engineers can contact the Ultralife Corporation team on +1 (315) 332 7100.
Ends: 361 words
For further information contact: Rob Brown, Accutronics Ltd
Unit 20 Loomer Road, Chesterton, Newcastle-under-Lyme
Staffordshire, ST5 7LB, United Kingdom
Telephone: +44 (0) 1782 566 688
www: https://www.ultralifecorporation.com/
e-mail: [email protected]
Twitter: https://twitter.com/UltralifeCorp
LinkedIn: https://www.linkedin.com/company/ultralife-corporation
Facebook: https://www.facebook.com/UltralifeCorp
Press enquiries: Thomas Roden or Lorna Wilde – Stone Junction Ltd
1 St Mary's Place, St Mary's Grove, Stafford, Staffordshire, ST16 2AR
Telephone: +44 (0) 1785 225416
e-mail: [email protected] or [email protected]
Twitter: https://twitter.com/StoneJunctionPR
Facebook: https://www.facebook.com/technicalPR
LinkedIn: https://www.linkedin.com/company/stone-junction-ltd
About Ultralife: A global corporation headquartered in Newark, New York, Ultralife has extensive North American as well as international operations in Europe, China and India. Through strategic growth and acquisitions, the corporation has expanded beyond its commercial and military battery business to include custom engineering design and services, tactical communications systems and a wide range of power accessories for global government and defence markets.
Ref: ULT130/02/22