NIO Power: Roll out of 700th battery swap station ahead of schedule as demand for service increases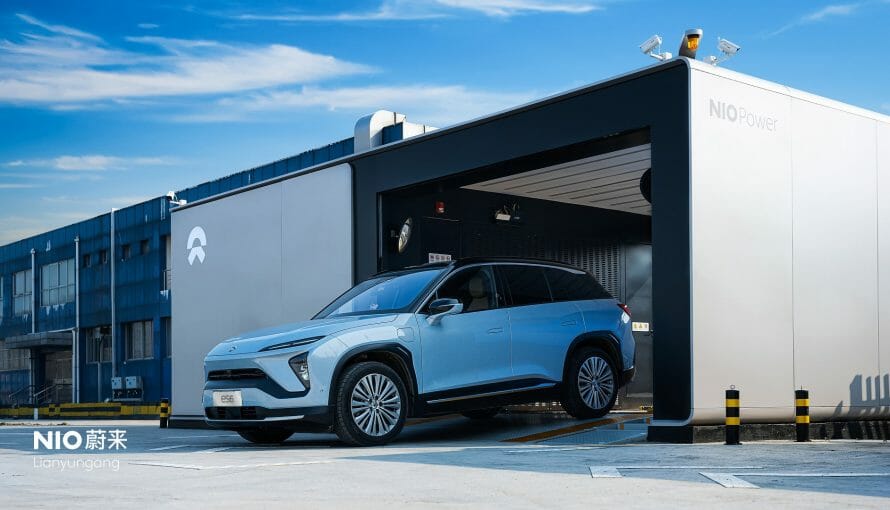 700th battery swap station installed Lianyungang City, Jiangsu Province in eastern China
Over 5.3 million battery swaps successfully completed
Swap station enables users to choose Battery-as-a-Service (BaaS) for optimum flexibility and pricing
Roll out of swap stations will extend beyond China with 1000th set to be outside of China by 2025
NIO, a pioneer and manufacturer of smart premium electric vehicles, has rolled out its 700th battery swap station in China. As demand for its innovative battery services continues to increase the milestone station was installed, ahead of schedule, in Lianyungang City, Jiangsu Province.
In three minutes, NIO's second-generation battery swap station enables the vehicle to automatically park into the station and switch for a fresh, fully-charged unit. The service forms part of NIO Power, a comprehensive suite of battery management services that simplify electric car usage. Alongside swap stations and chargers, NIO users have the option to flex between different battery capacities thanks to its Battery-as-a-Service (BaaS) programme.
Prior to July, NIO's goal was to have 500 battery swap stations running by the end of the year, a target it has now exceeded. In addition to the 700 battery swap stations, NIO's power network comprises 3,020 power chargers and 3,319 destination chargers. In Shanghai alone there are 60 swap stations, 63 supercharging stations, 21 destination charging stations and via NIO Power, access to 32,942 third-party charging piles in Shanghai.
The accelerated rollout has focused on urban areas to best serve NIO users. At the end of November, 42.34 per cent of NIO users lived within three kilometres of their nearest battery swapping station. The latest "Station to Vehicle" ratio means on average, each battery swap station serves 258 cars, down from 272 in October.
By the end of 2025, NIO will have 4,000 active battery swap stations worldwide with around 1,000 outside of China. As part of the NIO Power 2025 plan, NIO has confirmed its charging and swapping system, as well as BaaS (Battery-as-a-Service), will be fully available to the industry. To support NIO's rollout of services it recently signed a new strategic cooperation agreement with Shell. Together, NIO and Shell will construct and operate battery charging and swapping facilities in China by 2025 and in Europe from next year. Shell's charging network in Europe will also become available to NIO users.
ENDS
About NIO Inc.
NIO Inc. is a pioneer and a leading company in the premium smart electric vehicle market in China. Founded in November 2014, NIO's mission is to shape a joyful lifestyle. NIO aims to build a community starting with smart electric vehicles to share joy and grow together with users. NIO designs, develops, jointly manufactures and sells premium smart electric vehicles, driving innovations in next-generation technologies in autonomous driving, digital technologies, electric powertrains and batteries. NIO differentiates itself through its continuous technological breakthroughs and innovations, such as its industry-leading battery swapping technologies, Battery as a Service, or BaaS, as well as its proprietary autonomous driving technologies and Autonomous Driving as a Service, or ADaaS. NIO launched the ES8, a seven-seater flagship premium smart electric SUV in December 2017, and began deliveries of the ES8 in June 2018 and its variant, the six-seater ES8, in March 2019. NIO launched the ES6, a five-seater high-performance premium smart electric SUV, in December 2018, and began deliveries of the ES6 in June 2019. NIO launched the EC6, a five-seater premium smart electric coupe SUV, in December 2019, and began deliveries of the EC6 in September 2020. NIO launched the ET7, a flagship premium smart electric sedan, in January 2021.
More information
www.nio.com
Twitter: @NIOGlobal
Facebook: @NIOGlobal
Instagram: nioglobal
Linkedin: NIO
Media contact NIO Europe:
Felix Buchner
[email protected]
UK PR Contact
Elan PR Ltd
Nick Bailey
T: +44 (0) 1295 780411
M: +44 (0) 7813 956664
[email protected]
Melissa Wicks
M: +44 (0) 7835 590481
[email protected]