Recharge Industries™ Signs MOU with Tees Valley Lithium to supply Lithium Hydroxide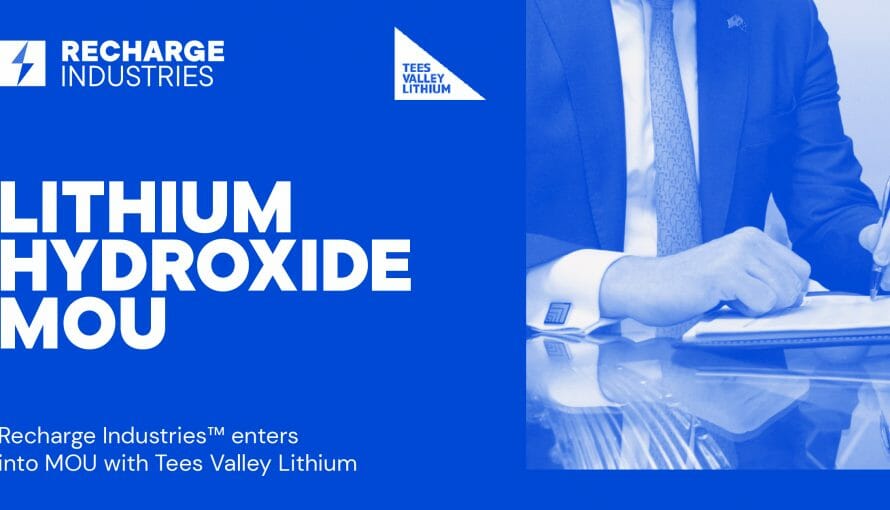 London, UK, February 7, 2023 – Recharge Industries™ just signed a Memorandum of Understanding (MOU) with Tees Valley Lithium (TLV) to supply Lithium Hydroxide. TLV is a wholly owned subsidiary of Alkemy Capital Investments plc.
Through this MOU, TVL has agreed to supply tolled lithium hydroxide to Recharge Industries™ from its facility in Teesside, in Northern England. Both companies will continue good-faith negotiations, aiming toward a definitive offtake and supply agreement.
In addition, both TVL and Recharge Industries™ have agreed to work together to jointly source lithium spodumene to be used in TVL's refinery in Port Hedland, Western Australia for conversion to lithium sulphate to be shipped to Teesside, UK for conversion into lithium hydroxide.
Recharge Industries™ has sought the support of TVL to safeguard the supply of critical minerals into its Geelong (Avalon), Victoria, Australia gigafactory and for its future Northumberland gigafactory. The significant offtake envisaged under the MOU enables long term planning and production forecasting and strengthens its own battery offtake agreements and existing supply chain. Recharge Industries™ will make its supply of lithium hydroxide available to its active Cathode supplier.
"This MOU links two like-minded companies to enable the critical mineral supply chain needed to build significant battery manufacturing capability in Australia, the US and the UK and underscores our intent to revive the fortunes of Britishvolt. We look forward to integrating lithium hydroxide from TVL into our established and high performing supply chain," says Scale Facilitation® CEO and Founder of Recharge Industries™, David A. Collard.
"We are delighted to announce our new partnership with Recharge Industries, a company which shares our philosophy and vision of powering the transition to a low-carbon and low-emissions future through the development of onshore UK facilities in the EV and battery cell supply chain," says Alkemy and TVL Director Sam Quinn.
About Recharge Industries™
Generating our green future, Recharge Industries™ is establishing a large-scale lithium-ion battery cell production and research capability in Australia. Using world leading artificial intelligence (AI) and multinational research partnerships, we are finding ways to make batteries better, safer, and longer lasting. We are powering the transition to a low emissions future by creating advanced battery cell manufacturing capabilities onshore.
For more information on Recharge Industries™, please visit www.rechargeindustries.com or connect with Recharge Industries™ on Linkedin and Twitter.
About Scale Facilitation®
With its Global Headquarters in Manhattan and its Global Innovation Center in Geelong, Australia, Scale Facilitation® is working bilaterally to bring together research, advanced manufacturing, capital, supply chains and talent.
Scale Facilitation® is an investment firm with a novel approach de-risking projects by empowering innovators to maintain focus on their craft and facilitating the many critical services and capabilities required to deliver large-scale advanced manufacturing and innovation projects. Scale Facilitation® removes the many barriers to commercialization for innovators by giving access to the right strategic partners and collaborators who will adopt and scale their inventions.
For more information on Scale Facilitation®, please visit www.scalefacilitation.com or connect with Scale Facilitation® on Linkedin, Twitter, and Facebook.
Source: https://www.rechargeindustries.com/post/recharge-industries-signs-mou-with-tees-valley-lithium-to-supply-lithium-hydroxide-1
Contacts:
Marie T. Oates (US)
Recharge Industries™
Scale Facilitation®
+1 617 290 7795
Eva Marchingo (AUS)
Recharge Industries™
Scale Facilitation®