Rotherham Hospital set to benefit from advanced battery energy storage system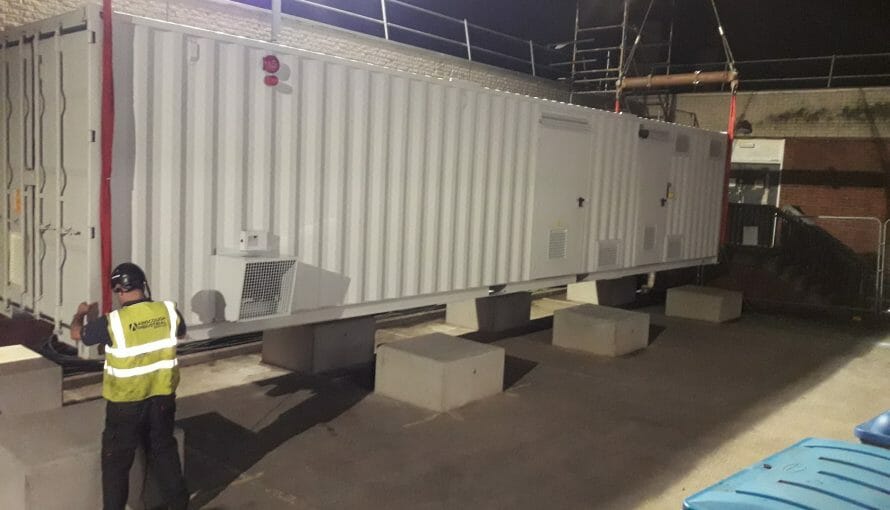 Veolia designed system will support other energy upgrades to cut carbon and reduce energy costs
Veolia, working through its specialist energy team, has now commissioned a new Battery Energy Storage System (BESS) at the 500 bed Rotherham Hospital as part of a 20 year Energy Performance Contract (EPC). The 500kWh storage capacity will contribute to targeted EPC savings of over £1 million per year, provide an energy income, increase resilience of the energy supply, and enable the Rotherham NHS Foundation Trust to cut carbon emissions by 49,620 tonnes. The EPC used by the Trust is the NHS standard performance contract, managed, procured, financed and monitored for its lifetime by the Carbon and Energy Fund
With a growing sustainable energy supply in the energy mix, grid resiliency is important to manage the variable availability of sustainable energy sources such as wind and solar power. To counter these variations the battery system effectively balances the output of renewable energy sources which operate in a less predictable manner compared to traditional power stations. When discharging at peak time, the battery displaces the marginal generator which is still fossil fuelled power for most of the year. In this way it will perform a key role in the transition to a sustainable decarbonised electrical supply.
The Battery Energy Storage System (BESS) comprises multiple battery cells that store electrical energy produced for use at a later time. Based on the latest lithium-ion technology the battery unit is capable of delivering 500kWh, equivalent to the energy output from 130,000 standard AA size batteries. The technology enables the Trust to take advantage of reduced electricity bills by discharging power, when the demand is highest, which reduces imported electrical consumption and peak electrical import charges. Because of its unique reaction speed, and fast acting controls, it provides continuous stability for the National Grid by adjusting power flows at each millisecond to balance the surplus or lack of energy on the network.
Engineered into the electrical infrastructure and CHP system by Veolia, the BESS enables the Trust to gain income from the grid by exporting power  when there is less power being generated than used by consumers, and also for absorbing power when more power is being generated than is being used by consumers. This reduces electrical bills via the BESS's ability to discharge power at these key times and reduce imported electrical consumption and import charges. This adds to the financial benefit gained from the fast frequency response through grid stabilisation.
Control takes place automatically via a third party Aggregator, which manages electricity assets to counter load imbalances in response to changes in energy demands. By operating in an Uninterruptible Power Supply (UPS) mode the system also delivers greater electrical power supply resilience for critical healthcare activities, such as operating theatres, by providing power if grid supply is lost.
Commenting on the latest renewable energy project, John Abraham, Chief Operating Officer – Veolia  UK & Ireland –  Industrial, Water & Energy said:
"Achieving net zero carbon will require a sustainable energy supply that can replicate and replace fossil fuelled power stations.
"To do this we believe flexibility and demand management of decentralized energy is the key to addressing this issue. Backed by the energy saving upgrades that are part of the energy performance contract, the new BESS at Rotherham Hospital is another key step in achieving this goal, and helps the NHS to become more sustainable and focus budgets on patient care."
One of the most forward-thinking trusts in the UK, the Rotherham NHS Foundation Trust is at the leading edge of health service reform and is an Associate Teaching Hospital of the University of Sheffield and has an active research programme. The Urgent and Emergency Care Centre deals with around 105,000 attendances, and there are approximately 30,000 day cases, 40,000 inpatients and 250,000 outpatient attendances at the Trust each year.
Veolia currently provides energy management to over 100 hospitals in the UK which support the healthcare for around 8.1 million inpatients each year, and reduce CO2 emissions in the healthcare sector by 120,000 tonnes.
For more information visit www.veolia.co.uk .
Ends
———————————-
Notes to the Editor
Picture captions:
Veolia power management helpdesk 12a:
Veolia currently provides power demand management to over 100 hospitals in the UK
Rotherham Hospital BESS 211702:
Latest lithium-ion technology is capable of delivering 500kWh
About Veolia 
Veolia group aims to be the benchmark company for ecological transformation. With nearly 179,000 employees worldwide, the Group designs and provides game-changing solutions that are both useful and practical for water, waste and energy management. Through its three complementary business activities, Veolia helps to develop access to resources, preserve available resources, and replenish them. In 2020, the Veolia group supplied 95 million people with drinking water and 62 million people with wastewater service, produced nearly 43 million megawatt hours of energy and treated 47 million metric tons of waste. Veolia Environnement (listed on Paris Euronext: VIE) recorded consolidated revenue of €26.010 billion in 2020. www.veolia.com
For more information visit us at www.veolia.co.uk or follow us on Twitter at www.twitter.com/veoliauk.
Nick Burchett
External Engagement Manager
United Kingdom & Ireland