Skeleton launches its SuperBattery and unveils Shell as partner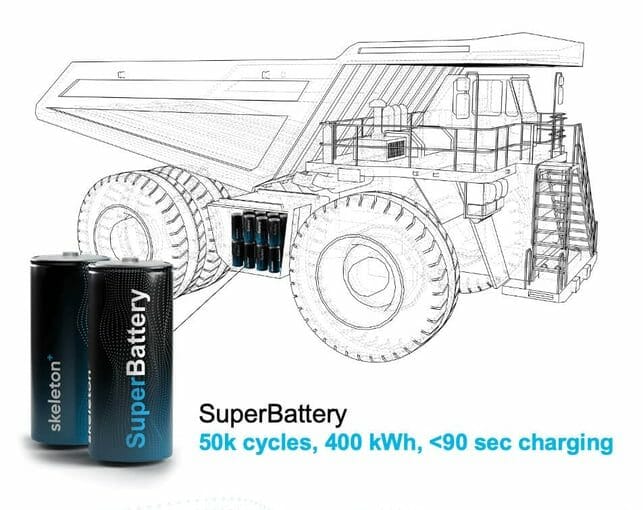 Berlin, Germany – 12th October 2022: Skeleton Technologies, the global technology leader in fast charging for transportation, grid, automotive, and industrial applications, is today delighted to officially launch its SuperBattery, and to unveil Shell as partner. Skeleton is joining a Shell-led consortium to offer electrification solutions for mining sites.
SuperBattery is an innovative technology combining the characteristics of supercapacitors and batteries. SuperBattery has been developed to serve the needs of several sectors and is currently being used and/or tested in hybrid and fuel cell EVs, buses, trucks, and charging infrastructure.
Taavi Madiberk, CEO and co-founder of Skeleton Technologies, says:"Skeleton goes after the high-power part of the energy storage market and we estimate the addressable market size to be 95 Bn EUR. Now, the key is to move ahead with the scale-up and we aim to develop our business around SuperBattery through key partners such as Shell."
Decarbonization in mining largely relies upon electrification and renewables, which are the best way to reduce operational emissions. Electrification of heavy-duty applications is both a necessity and a major challenge for the mining industry.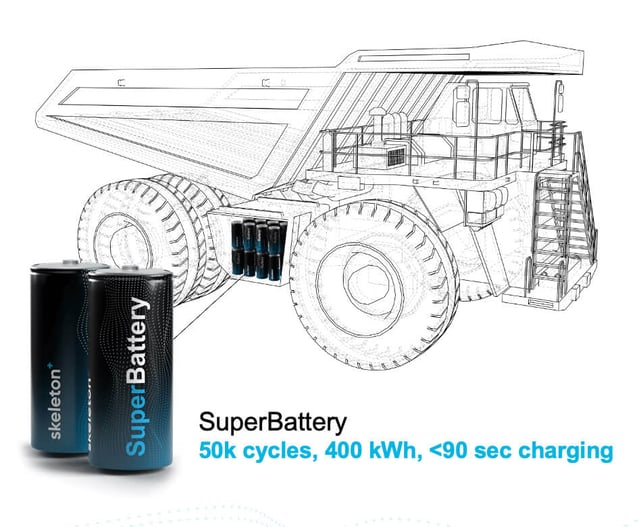 Grischa Sauerberg, Vice President, Sectoral Decarbonisation and Innovation at Shell explains: "The challenge of decarbonisation is immense, but not impossible – providing collaboration and innovation go hand in hand at all times. We are proud to work alongside Skeleton – and our consortium members – to develop a new pilot offering of electrification solutions for off-road vehicles and to demonstrate how partnership and close collaboration can help mining businesses meet their environmental goals. Skeleton's technology, providing ultrafast charging at ~< 90 seconds, means the solution can help mining companies reduce emissions without compromising on efficiency."
The nine-member consortium, including Skeleton and Shell, has come together to introduce Shell's Mining Electrification Solutions for Off-Road Vehicles – announced in May 2022 as one of the 8 winners of the mining industry's 'Charge On Innovation Challenge', from over 350 entries. The solution is an end-to-end and interoperable electrification system that reduces emissions without compromising on efficiency or safety, whilst aiming to be cost competitive versus diesel-powered operations. The pilot offering combines ultra-fast charging with Skeleton's new SuperBattery, in-vehicle energy storage, and power provisioning and microgrids.
Taavi Madiberk continues: "Over the next 7 years, the mining sector represents a multi-billion revenue opportunity for Skeleton. This is not only driven by decarbonization, but by tangible economic benefits for our customers. Skeleton is focused on reducing emissions in hard-to-decarbonize sectors. But we cannot achieve it alone, we can only do it with partners. Close collaboration with Shell is key for us, with potential going way beyond mining applications."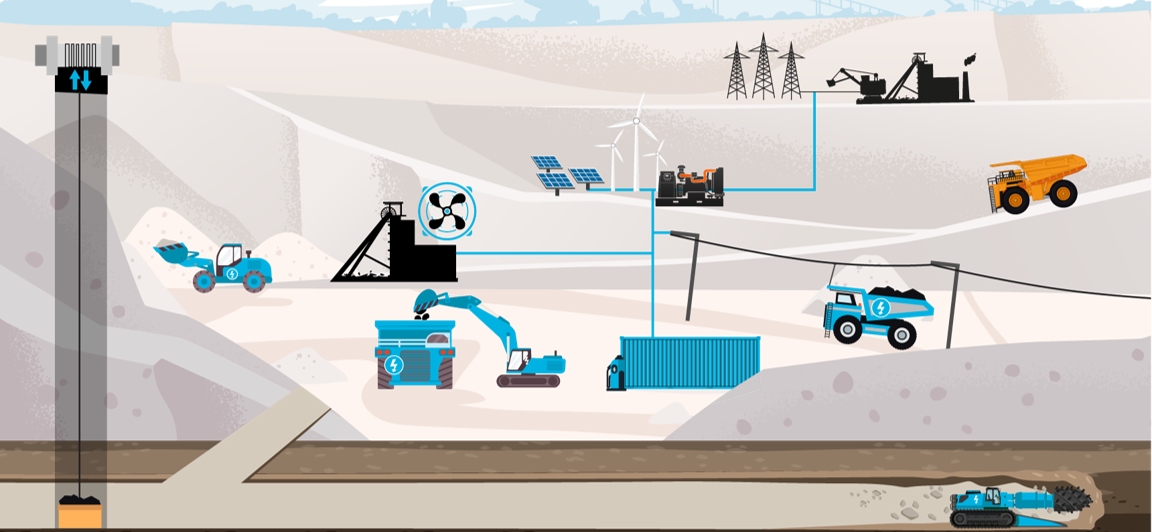 The haul truck is not the only electrification effort in the mine –  energy storage such as SuperBattery can also be used in stabilizing the grid of mines or to electrify wheel loaders and other machinery. The drive for high safety and power combined with high lifetime makes an optimal use profile for SuperBattery.
SuperBattery combines several advantages which make it a perfect fit for Shell's Mining Electrification Solutions for Off-Road Vehicles. Skeleton's patented Curved Graphene material allows for 100 x faster charging compared to standard Lithium-ion batteries. Used in off-road vehicles, SuperBattery can be charged in less than a minute, therefore requiring much less charging time spent per day: less than an hour, whereas 6.5 hours are needed with a lithium-ion battery. More time can therefore be spent on mining, and less on charging. SuperBattery has 50,000 life cycles, and is free from cobalt, copper, nickel, and graphite. It is also much safer than a lithium-ion battery, even when crushed, overheated, or pierced.
SuperBattery fills the technology gap in the energy storage market, delivering peak power and fast charging, and is best suited for applications below 30 minutes because of lower cost and footprint. The start of mass production is planned for 2024.
---
About Skeleton Technologies
Skeleton is a Global Cleantech 100 company and a technology leader in fast charging for transportation, grid, automotive, and industrial applications.
For us, developing and producing the best energy storage solutions is a means to an end: helping companies to reduce CO2 emissions and save energy.
We work with some of the largest companies in the world – from European automotive companies, industrial equipment OEMs to truck fleet operators and aerospace prime contractors. Our products decrease CO2 emissions and fuel consumption, improve power quality, and empower wider electrification of the biggest industries globally to fight climate change.
Our supercapacitor and SuperBattery energy storage technologies, based on patented curved graphene, represent the biggest technological advancement in the industry in the last 20 years and the use of this innovative material provides our products with an unparalleled advantage in power and energy density.
Skeleton Technologies Group has four main locations: its manufacturing in Großröhrsdorf, sales in Berlin, materials development in Bitterfeld-Wolfen, and electrical engineering and module development in Tallinn, Estonia. In 2024, we will open the largest supercapacitor factory in the world in Markranstädt, Germany.
About Shell Mining
With 80,000+ employees across 70+ countries, Shell works with global industries to accelerate the transitiosn to net-zero emissions by providing more and cleaner energy solutions. Shell's target is to become a net-zero business by 2050, which supports the ambitious goal to tackle climate change laid out in the UN Paris Agreement: to limit the rise in average global temperature to 1.5° Celsius.
To help transform industries, Shell has created the Shell Sectors & Decarbonisation (S&D) business. This is comprised of teams with specific sectoral experience who support companies that operate in hard-to-abate sectors to avoid, reduce and mitigate their emissions. Shell S&D provides these customers with the products and solutions required today, while working together to meet their fast-evolving needs.
Shell Mining works across the entire mining value chain – from hauling to processing and beyond – to identify and develop decarbonisation strategies, pathways and solutions that help unlock efficient operations and sustainable practices. Shell's sectoral approach allows the mining team to apply its deep industry knowledge and expertise, while working closely with customers to develop highly tailored solutions. In doing so, Shell Mining sees collaboration as a critical part of innovation and a crucial lever for emissions reduction across the sector.
Disclaimers:
End to End solution: Shell supplies the electricity to the OEM vehicle as well as facilitating the implementation and operations of an electrified haul-truck fleet. Solutions include: next generation in-vehicle energy storage, high-capacity fast charging systems, automated charging connectors, microgrid site energy management, mine-site integration specialist and renewable power provisioning.
Reduce emissions: Electrified mobile equipment does not emit any CO2 emissions whilst operational and therefore offers a reduction vs. diesel operated machinery.
Without compromise in operational efficiency: Shell's electrification solution can have multiple charge points available to charge a haul-truck within a typical haul-truck cycle whilst a vehicle is typically stationary, such as whilst being loaded, meaning a haul-truck may run continuously.
Without compromise on safety: For Shell, HSSE is a key priority when designing individual components of the solution and integrating them in a system. For example, HSSE safeguards such as on-board & Remote Emergency Stop, Object Detection and Avoidance, Charge Connector Status, Temperature & Coolant Flow Monitoring aim to be implemented. Ultracapacitors that we intend to use for energy storage have better fire safety characteristics than Lithium-ion batteries.
Ultra-fast charging: Ultra-fast means Energy Transfer of 400 kWh in ~< 90 sec and assumes peak power delivery of 24MW.
Electrification has lower TCO (vs. diesel): TCO is calculated using a variety of factors including cost of maintenance and the cost of energy (electricity). This is dependent on the cost of electricity, availability of electricity supply to a mine site and the cost of implementing an electric fleet.
Interoperability: Shell is working with Original Equipment Manufacturers (OEM) and solution provider partners to standardise our solution specifications across multiple OEMs and solution providers to ensure a broad as possible compatibility.
Renewable Power: Renewable power refers to electricity generated from renewable sources like wind or solar. Renewable power generation is not possible in all situations.
Source: https://www.skeletontech.com/news/skeleton-launches-its-superbattery-and-unveils-shell-as-partner?hsLang=en
Skeleton Technologies press contact
Arnaud Castaignet
VP of Public Relations & Government Affairs

+372 5669 9602
[email protected]