Snow Lake Lithium to develop world's first all-electric Lithium mine, supplying North American electric vehicle industry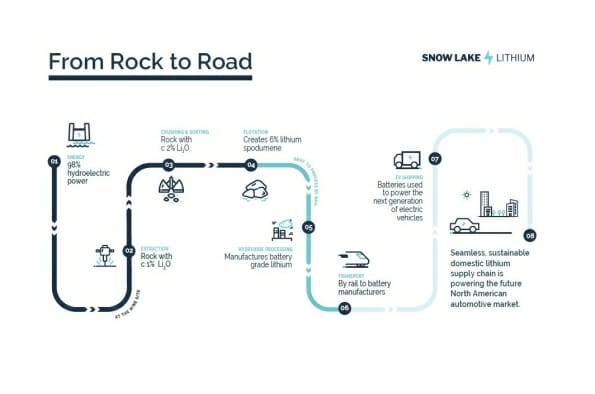 First fully integrated, carbon neutral lithium hydroxide provider operated by renewable hydroelectric power
Lithium is a critical, in-demand component of batteries needed for electric vehicles
Securing domestic lithium hydroxide supply to the North American electric vehicle industry
Seeking a joint venture partner to develop lithium hydroxide plant
11th February 2022, Canada: Snow Lake Lithium Ltd (Nasdaq:LITM) has outlined plans to develop the world's first all-electric Lithium mine in Manitoba, Canada developing a domestic supply of this critical resource to the North America electric vehicle industry.
With demand for electric vehicles growing rapidly, the global automotive and energy storage industries will be competing to access raw materials, especially lithium, that are a crucial component of batteries.
North American automotive manufacturers have committed manufacturing capacity to meet the demand for electric vehicles, but the future of the North American automotive industry relies on sourcing lithium hydroxide on the continent rather than importing it from China and Asia as well as creating an integrated domestic supply chain.
To enable the seamless integration of the supply chain, Snow Lake Lithium plans to establish a joint venture to create a lithium hydroxide processing plant and is seeking a partnership with an automotive OEM or a battery manufacturer to deliver this.
Philip Gross, CEO of Snow Lake Lithium said, "We are facing a once-in-a-century industrial pivot as North America accelerates towards an electrified future. If we don't act now to secure a seamless lithium supply chain from rock to road, the North American car industry will not exist in 10 years' time.
"Our ambition is to become the first fully integrated, carbon neutral lithium hydroxide provider to the North American electric vehicle industry. We are developing the world's first all-electric lithium mine, operated by renewable power, and are currently looking for a joint venture partner to create a lithium hydroxide processing plant in the region."
Based in Manitoba, Canada, Snow Lake Lithium is ideally located to serve the North American automotive industry with access to the US rail network via the Artic Gateway railway, which reduces transportation from thousands of miles by road and boat to just several hundred by train.
Snow Lake Lithium's 55,000 acre site is expected to produce 160,000 tonnes of 6% lithium spodumene a year over a 10 year period. Currently, Snow Lake Lithium has explored around 1% of its site and is confident that this will expand over the course of the next year. Snow Lake Lithium's mine will be operated by almost 100% renewable, hydroelectric power to ensure the most sustainable manufacturing approach.
The Manitoba region has a rich history of mining giving Snow Lake Lithium access to some of the most talented and experienced miners in North America.
Philip Gross continued, "Mining runs through Manitoba's DNA, the evolution of the electric vehicles supply chain offers a once in a generation opportunity to deliver economic growth and secure a sustainable future for mining for the province. We are working closely with Manitoba Province to develop the right conditions to make the most of this opportunity."
Over the coming months, Snow Lake Lithium will continue its engineering evaluation and drilling programme across its Thompson Brothers Lithium Project site, with the expectation that the mine will transition to commercial production in late 2024.
Ends
About Snow Lake Resources Ltd.
Snow Lake Lithium is committed to creating and operating a fully renewable and sustainable lithium mine that can deliver a completely traceable, carbon neutral and zero harm product to the electric vehicle and battery markets. We aspire to not only set the standard for responsible lithium mining, but we intend to be the first lithium producer in the world to achieve Certified B Corporation status in the process.
Our wholly owned Thompson Brothers Lithium Project now covers a 55,318-acre site that has only been 1% explored and contains an identified-to-date 11.1 million metric tonnes indicated and inferred resource at 1% Li2O.
Forward Looking Statements
This press release contains "forward-looking statements" that are subject to substantial risks and uncertainties. All statements, other than statements of historical fact, contained in this press release are forward-looking statements. Forward-looking statements contained in this press release may be identified by the use of words such as "anticipate," "believe," "contemplate," "could," "estimate," "expect," "intend," "seek," "may," "might," "plan," "potential," "predict," "project," "target," "aim," "should," "will" "would," or the negative of these words or other similar expressions, although not all forward-looking statements contain these words. Forward-looking statements are based on Snow Lake Resources Ltd.'s current expectations and are subject to inherent uncertainties, risks and assumptions that are difficult to predict and include statements regarding the expected use of proceeds and expected closing. Further, certain forward-looking statements are based on assumptions as to future events that may not prove to be accurate. These and other risks and uncertainties are described more fully in the section titled "Risk Factors" in the final prospectus related to our public offering filed with the Securities and Exchange Commission and other filings and reports that we file with the Securities and Exchange Commission. Forward-looking statements contained in this announcement are made as of this date, and Snow Lake Resources Ltd. undertakes no duty to update such information except as required under applicable law.
For more information, please contact:
Lisa Palmer
E: [email protected]
Ben Lewis
E: [email protected]
twitter: @SnowLakeLithium
Snow Lake Lithium to develop world's first all-electric Lithium mine, supplying North American electric vehicle industry | Newspress UK