StoreDot and Circulor partner to deliver supply chain transparency for EV battery cell materials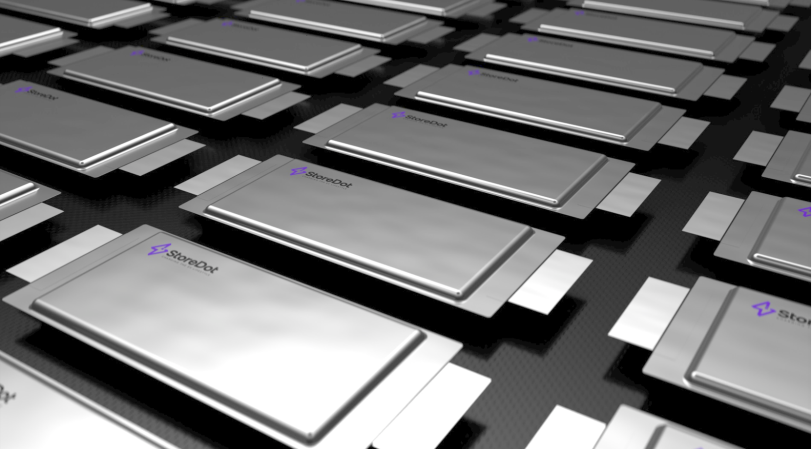 New partnership demonstrates StoreDot's dual commitment to a fast and responsible transition to electric vehicles
Herzliya, Israel and London, UK, 31st January 2023 – StoreDot, the pioneer of extreme fast charging battery technology for electric vehicles, has partnered with Circulor, the leading supply chain traceability solution, to track the provenance and CO2 emissions of the raw materials used in its battery cells and its manufacturing cells process in order to prove responsible, sustainable, and ethical sourcing.
StoreDot is pioneering faster charging times and increased reliability by developing cell technology capable of delivering 100 miles on a five-minute charge by 2024. In parallel to driving greater electric vehicle demand through longer range and shorter charge times, StoreDot is also concentrating its efforts on sustainable products, working with Circulor on creating transparent battery supply chains to provide full traceability for global automotive manufacturers and support them in meeting regulatory requirements.
StoreDot and Circulor's collaboration has already begun, and the two companies are implementing Circulor's traceability solution to follow upstream battery material production and the corresponding embedded carbon emissions. This information will give StoreDot transparency and will enable the company to make such information available to EV OEM customers and regulators who are requiring information regarding Environmental, Social, and Governance (ESG) efforts.
StoreDot has also joined the German government's "Battery Pass" project as an associate member alongside Circulor, which is a founding consortium member and leads the technology workstream. The two companies will continue to work within the project to strengthen industry collaboration and prepare for the enactment of the EU Battery Regulation.
StoreDot CEO Dr Doron Myersdorf said:
"The environmental, social, and governance aspects of our XFC solution are a core value to StoreDot and its employees. We are therefore pleased to be entering this partnership with Circulor which has consistently demonstrated its world-leading supply chain traceability capabilities. It is essential that StoreDot offers its automotive OEM customers and investors full transparency of CO2 emissions, as well as the materials and components of our extreme fast charging '100in5' battery cells. This will give our EV partners even more confidence in StoreDot as we move closer to mass producing batteries."
Circulor CEO Douglas Johnson-Poensgen said:
"StoreDot is a pioneer in next generation battery solutions, specifically focused on overcoming potential barriers to EV adoption and ensuring that our move to electrified economies is done right. We are delighted to be working with the StoreDot team to create EV supply chain transparency and demonstrate its importance in building a sustainable and responsible future."
ENDS
PRESS CONTACT:
CirculorDeborah Goodier

+44 7827 686 860

StoreDotTom Green

+44 7855 939486
ABOUT CIRCULOR:
Circulor gives organizations full visibility of their supply chains. The London-based company offers the most mature, proven, and complete technology software solution available to track materials with high environmental and human rights impacts as they change state within manufacturing and recycling supply chains. With Circulor, businesses can follow the physical flow of critical materials from extraction to final production, as well as associated ESG characteristics and embedded carbon across Scope 1, 2, and 3 emissions. The tech company was founded in 2017 in the UK, with offices in the US, Germany, Ireland, Singapore, and Australia. The company has been named a  Technology Pioneer by the World Economic Forum, Global Cleantech 100, and won DIGITALEUROPE's 2022 Future Unicorn Award.
More information can be found at www.circulor.com. Follow us on LinkedIn and Twitter.
ABOUT STOREDOT:
StoreDot is the pioneer and global leader of extreme fast charging (XFC) electric vehicle batteries that overcome the critical barriers to mainstream EV adoption – range and charging anxiety. The company has revolutionized the conventional Li-ion battery by designing and synthesizing proprietary organic and inorganic compounds, optimized by Artificial Intelligence algorithms, to make it possible to charge an EV in under ten minutes – the same experience as refueling a conventional combustion engine car.
Through its '100inX' product roadmap, StoreDot's battery technology aims to deliver 'Range on Demand': 100 miles charged in 5 minutes in 2024, 100 miles charged in 3 minutes by 2028, and extreme energy density solution enabling 100 miles to be charged in 2 minutes by 2032. StoreDot's strategic investors and partners include Daimler, BP, VinFast, Volvo Cars, Polestar, Ola Electric, Samsung, TDK, and its manufacturing partner EVE Energy. StoreDot's agnostic technology is designed to utilize existing standard production lines with no changes to process or equipment.  In 2022, the company achieved a world first by demonstrating a live extreme fast charging of an EV battery cell in 10 minutes capable of over 1000 consecutive XFC cycles. StoreDot is on target for mass production readiness of 100in5 technology by 2024.
More information can be found at www.store-dot.com. StoreDot's media kit can be found at this link.