Three business deals and two new collaborations for BatteryLoop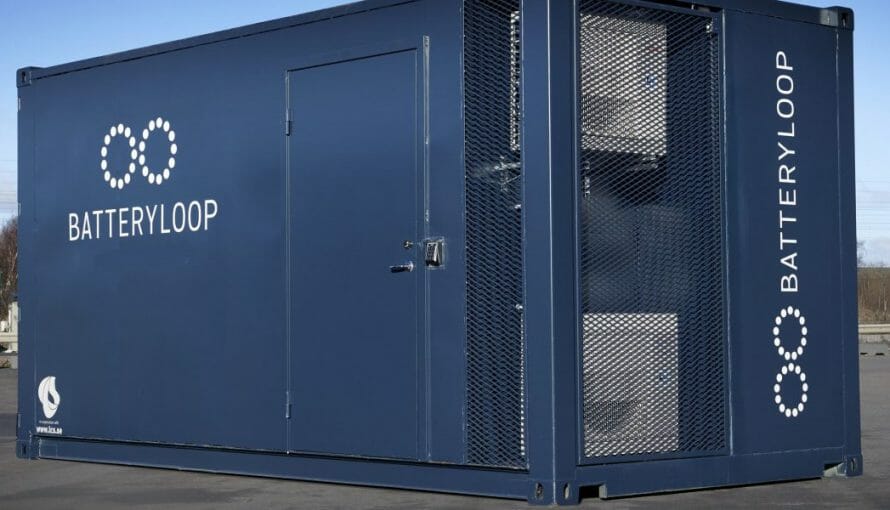 BatteryLoop has received a combined order of approaching 10 Megawatt of their energy storage systems, made with reused electric vehicle batteries, and entered into two new collaborations.
BatteryLoop has received three orders of their large systems: BLESS™ III of 2,8 Megawatt each, to be placed around Sweden. The energy storage systems will be made with reused vehicle batteries from Mercedes-Benz Energy, whom BatteryLoop entered into an agreement with earlier this year.
The start-up company BatteryLoop create circular solutions for an electrified society. Their energy storage system BLESS™ are made with reused electric vehicle batteries. Together with their proprietary developed digital service platform they can for instance cut power peaks, store solar energy, support electric vehicle charging and generate income for the customer.
"The fact that our energy storage systems are made with reused batteries from the automotive industry is both resource efficient and climate smart. We also control our BLESS™ to be optimal with our own developed digital service platform. To succeed with the electrification of society and reach the target climate goals, reuse and innovative solutions are crucial", says Rasmus Bergström, CEO BatteryLoop.
BatteryLoop has signed an agreement with Ingrid Capacity for a BLESS™ III of 2,8 Megawatt
The energy storage system will be placed in Karlshamn Kommun and will support the local power grid with sustainable electricity, cut power peaks and frequency trade services.
Ingrid Capacity builds infrastructure for large scale energy storage in Sweden, thus enables society's transformation towards renewable energy sources. Ingrid Capacity is therefore supporting Svenska Kraftnäts need for balance in the power grid.
BatteryLoop delivers energy storage system to new sustainable district
A BLESS™ III of 2,8 Megawatts is ordered to be delivered to Humlestaden, Ikano Bostad and Stena Fastigheters new sustainable district.
In the southwest part of Högsbo, Ikano Bostad and Stena Fastigheter are planning a new district with 3000 new residences. The energy storage system will, to begin with, be used for frequency trade services.
Frequency trade services enables more renewable energy, such as solar and wind, in the power grid. Solar and wind energy does not have a grid stabilizing function, an energy storage system can support the stability thus enabling for the installation of more renewable energy without negative effects on the grid.
Reuse and recycling – together
BatteryLoop will install an energy storage system made with reused vehicle batteries at Stena Nordic Recycling Center in Halmstad.
"It feels natural to use reused batteries in our energy storage systems, and to place one at Stena Nordic Recycling Center in Halmstad, one of northern Europe's largest recycling facilities", says Rasmus.
The energy storage system will be used to cut the highest power peaks in the real estate and part take in Svenska Kraftnäts frequency trade market.
New collaborations for expansion
As a part of BatteryLoops expansion they have entered two new collaborations. A nation-wide collaboration with ONE Nordic for support in maintenance of BatteryLoops circular energy storage systems. ONE Nordic are suppliers of technical consulting services, contracting and service in the energy and industrial sector.
BatteryLoop has also joined a new collaboration with the electricity company Bixia regarding support services for the electricity market. This means that BatteryLoop can offer Bixia's commercial electricity trading customers a seamless package delivery. The collaboration between Bixia and BatteryLoop enables for production of more renewable electricity. BatteryLoops energy storage system can with controlling, contribute to the stability the grid needs in order to receive more renewable electricity production.
For more information contact:
Olivia Falklind, Digital Market Communications BatteryLoop, [email protected]
Source: Three business deals and two new collaborations for BatteryLoop – BatteryLoop