UKBIC to build £36m Flexible Industrialisation Line (FIL) to enable battery developers to more easily move up the challenging battery manufacturing 'scale-up' ladder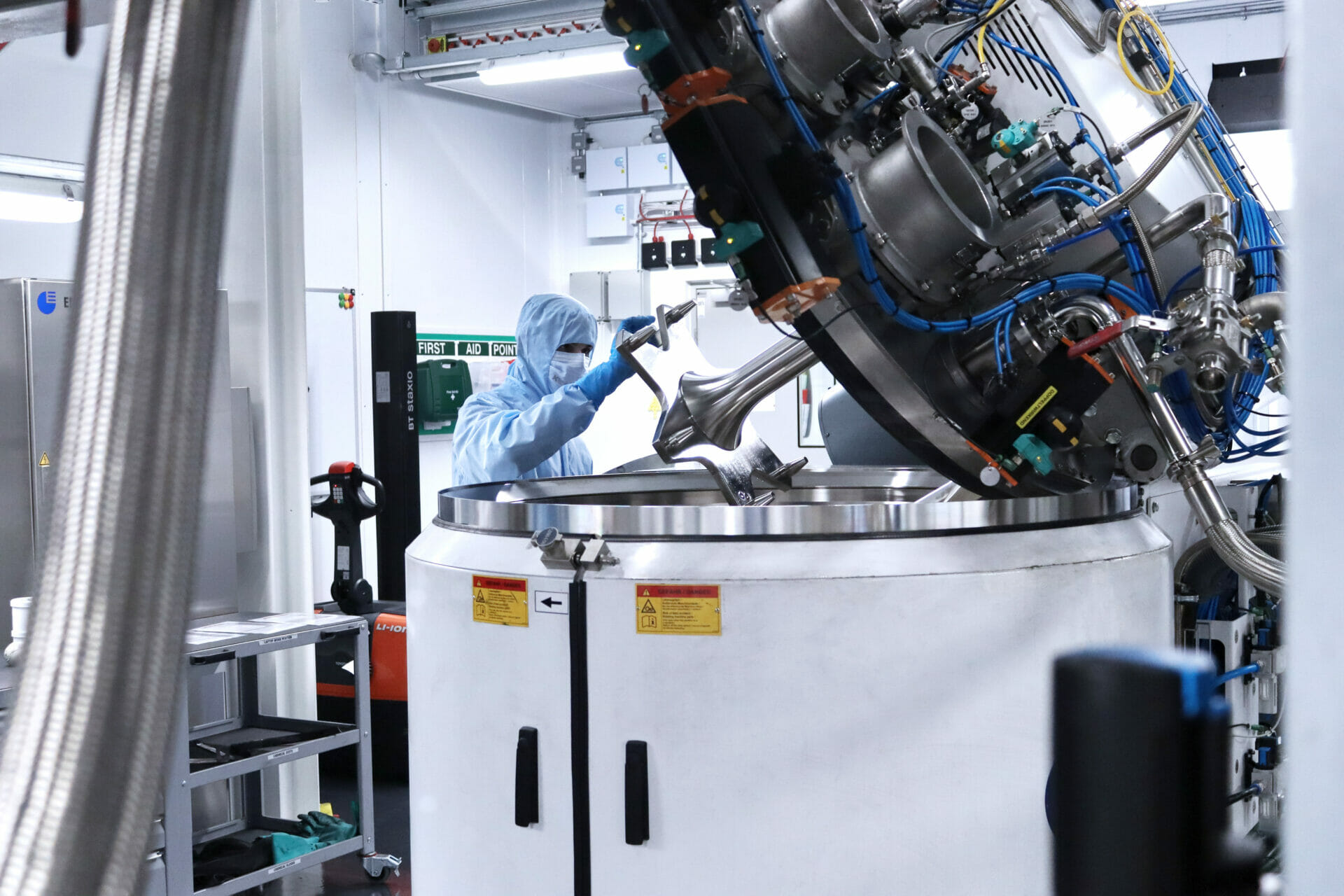 The UK Battery Industrialisation Centre (UKBIC), the UK's national battery manufacturing scale-up facility, has secured £36 million in funding for the facility's new Flexible Industrialisation Line (FIL.)
The new line will bridge the gap between UKBIC's Volume Industrialisation Line (VIL) and existing kilogramme scale demonstrator lines available elsewhere.
Construction of the new flexible line is set to get underway in September of this year, with the equipment coming online during 2025.
The new line will provide battery developers with a cost-effective route to market, enabling companies to move from R&D through to large-scale production, without having to take cell development outside of the UK. Once completed, FIL will be owned by UKBIC but operated jointly by UKBIC and WMG to facilitate effective transfer from research into industrialisation.
Funding for the new line is being provided by UK Research and Innovation, as part of the UK Government's Faraday Battery Challenge, a £541 million (€621.87 million) investment programme which supports world-class scientific technology development and manufacturing scale-up capability for batteries in the UK.
Since it opened in July 2021, UKBIC has successfully supported 24 advanced scale up and industrialisation battery technology projects across numerous battery developers and end users, supported by its existing facilities and capabilities.
Dr Ahmad Mohsseni, UKBIC's Chief Technology Officer, who announced the initiative during a presentation at the The Battery Show Europe in Stuttgart, Germany, said: "The construction of this new facility will be hugely significant for UKBIC and the UK battery industry. Once built, this new Flexible Industrial Line, will provide companies with a unique platform to enable them to get a foot on the scale-up ladder, from Research & Development through to volume manufacturing.
"Companies can find it incredibly difficult to source the volume of advanced materials required for early scale trial and demonstration – the smaller the quantity needed, the better for executing early-stage optimisation cycles and production trials. To date, we have mitigated the amount of material and time required for running our larger scale manufacturing equipment for early customers through developing techniques such as half-width coating, running at slower speeds and half mix batches of slurry, but more is needed to support industry with a truly cost-effective route to commercialisation."
Minister for Industry and Economic Security, Nusrat Ghani, added: "The battery industry will be essential in helping us grow the green economy of the future, and this funding secured by the UK Battery Industrialisation Centre forms part of the Government's landmark support for the industry so far. The Centre's new Flexible Industrialisation Line will provide a significant boost to both research and production for UK battery companies, helping to drive forward our ambition to make the UK a battery science superpower."
Tony Harper, Director of the Faraday Battery Challenge, commented: "When customers leave laboratories or pilot lines for product development, there is still a huge amount of process iteration required before cells can be successfully scaled at the cost, quality, and performance required for giga-scale production.
"UKBIC's existing Volume Industrialisation Line is ideally placed for the later stages of manufacturing process to validate that product can be made in volumes of tens of thousands and above. This is where it becomes cost-effective and representative of an industrial plant run, and therefore a vital part of the commercialisation process.
The gap for the UK is in early production quantities, between the low hundreds and low thousands of cells, which is where our new line will come in."
Jeff Pratt, UKBIC's Managing Director, added: "The scaling up of battery cells is notoriously difficult, time-intensive, and complex. When technology developers get to the point of trying to attract investors or customers, they are looking for high quality control and industrial standards, which is a key reason for turning to UKBIC. The challenge is that they may have a significant programme of product and process developments to be completed before they can continue.
"Our specialist high-volume manufacturing equipment is perfect for those organisations in need of representative scale-up, but not necessarily for those organisations at an earlier technology readiness stage of their development. That's where FIL, once built, will come in."
Professor David Greenwood, Director for Industrial Engagement and CEO of the High Value Manufacturing Catapult at WMG, said: "The new Flexible Industrialisation Line at UKBIC fills the strategic gap between Proof-of-Concept cells at WMG and full-scale manufacturing on the UKBIC Volume Industrialisation Line. This new facility will be operated jointly by UKBIC and WMG so as to bring the best battery science and technology together with the best manufacturing knowledge, allowing companies to manufacture sample batches of many thousands of innovative cells, accelerating commercial development."
-ends-
Notes to editor:
For photography or to arrange an interview, please email [email protected] or phone +44 (0) 7503 628892
About UKBIC
The UK Battery Industrialisation Centre (UKBIC) is the UK's national manufacturing battery development facility, where businesses can develop their battery manufacturing processes at the scale they need to move to industrial production.
Opened in July 2021 by the then British Prime Minister, the £130 million Coventry-based facility provides the link between battery research and successful mass production.
Based in Coventry, the publicly-funded battery facility welcomes manufacturers, entrepreneurs, researchers and educators, and can be accessed by any organisation with existing or new battery technology – if that technology will bring green jobs and prosperity to the UK.
The pioneering facility is a key part of the UK Government funded Faraday Battery Challenge, which has been delivered by Innovate UK on behalf of UK Research and Innovation, with the aim of building a high-tech, high-value, high-skill battery industry in the UK.
In addition to funding from the Faraday Battery Challenge through UK Research and Innovation, UKBIC's completion was part-funded through the West Midlands Combined Authority.  The facility was delivered through a consortium of Coventry City Council, Coventry and Warwickshire Local Enterprise Partnership and WMG, at the University of Warwick.  UKBIC was created in 2018 following a competition led by the Advanced Propulsion Centre with support from Innovate UK.
www.ukbic.co.uk
About UK Research and Innovation 
UK Research and Innovation (UKRI) is the largest public funder of research and innovation in the UK, with a budget of around £8bn. It is composed of seven disciplinary research councils, Innovate UK and Research England.
We operate across the whole country and work with our many partners in higher education, research organisations businesses, government, and charities.
Our vision is for an outstanding research and innovation system in the UK that gives everyone the opportunity to contribute and to benefit, enriching lives locally, nationally and internationally.
Our mission is to convene, catalyse and invest in close collaboration with others to build a thriving, inclusive research and innovation system that connects discovery to prosperity and public good.
www.ukri.org
About WMG, University of Warwick
WMG is a world-leading research and education group, transforming organisations and driving innovation through a unique combination of collaborative research and development, and pioneering education programmes.  As an international role model for successful partnerships between academia and the private and public sectors, WMG develops advancements nationally and globally, in applied science, technology and engineering, to deliver real impact to economic growth, society and the environment.
WMG is one of the founding partners of the High Value Manufacturing (HVM) Catapult, and leads HVM Catapult activities on Transport Electrification and Connected and Autonomous Mobility. The Catapult network's mission is to leverage research and educational expertise to de-risk innovation for UK manufacturing, to improve business resilience, productivity, competitiveness and sustainability.
www.warwick.ac.uk/fac/sci/wmg/