UK's IONETIC strengthen senior leadership team with appointment of automotive industry veteran Dr. Andy Palmer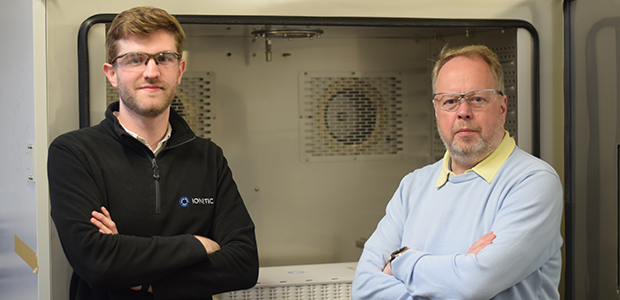 IONETIC, the dynamic UK start-up specialising in electric vehicle (EV) battery pack technology, is further strengthening the expertise of its senior leadership team with the appointment of automotive executive, Dr. Andy Palmer, as its Chairman.
Dr. Palmer joins IONETIC at a key stage in its development, as the business continues to focus on onboarding clients and planning the opening of its first giga-scale manufacturing facility in the UK.
He will draw from his wealth of knowledge and experience to support strategic growth and sales as the business progresses towards ultimately achieving multi-GWh battery pack production capacity.
A leading figure on the global automotive stage, Dr. Palmer has gained over 44 years of experience in the industry. He has led transformational change at two of the most widely recognised vehicle manufacturers in the business, while helping to supercharge mass-market EV adoption. He is often referred to as the 'Godfather' of EVs.
As COO and Chief Planning Officer of Nissan Motor Corporation, Dr. Palmer oversaw the development and introduction of the world's first mass-market EVs, the Nissan LEAF and Nissan e-NV200, before leading the launch of four core models and nine derivative vehicles as President & Group CEO of Aston Martin Lagonda.
Dr. Andy Palmer, Chairman of IONETIC, said: "I have witnessed first-hand the need for more cost-effective battery pack solutions that can still meet the performance criteria of automotive OEMs, especially in lower volume. IONETIC is doing just this, and I have great belief that its offering will significantly reduce the challenge and headaches of electrification for OEMs. I look forward to working with James and his brilliant team whilst using my experience to further develop their solution and take the business to the next level."
James Eaton, CEO and Co-Founder of IONETIC, said: "IONETIC was founded to support vehicle manufacturers in making the shift to electrification, bringing innovation to the industry to make that transition easier and faster. Andy has demonstrated that same commitment to intelligent innovation throughout his career. His knowledge and experience will be central to advancing our growth and I'm excited to have him as part of the team."
IONETIC leverages its unique design platform and end-to-end vertical integration to cut development cost and time for automotive manufacturers bringing new EVs to market.
Its state-of-the-art EV battery pack design platform can produce a bespoke battery pack design in minutes, delivering a solution that efficiently blends cost optimisation with high levels of customisation and performance. As a result, IONETIC can produce battery packs that offer over 30% more energy density than off-the-shelf solutions, while reducing development costs by over 90%.
Once it opens its first UK-based factory, IONETIC will be the only UK-based EV battery pack developer to offer an end-to-end solution – managing the entire process from initial design conception, through to homologation, testing and giga-scale production.
Source: IONETIC Reinforces Senior Leadership Team with Appointment of Automotive Industry Veteran Dr. Andy Palmer CMG as Chairman – IONETIC