Ultra-Fast Charging Battery Start-up Nyobolt Raises £50m in Series B Funding Round to Lead the Future of Sustainable Energy Storage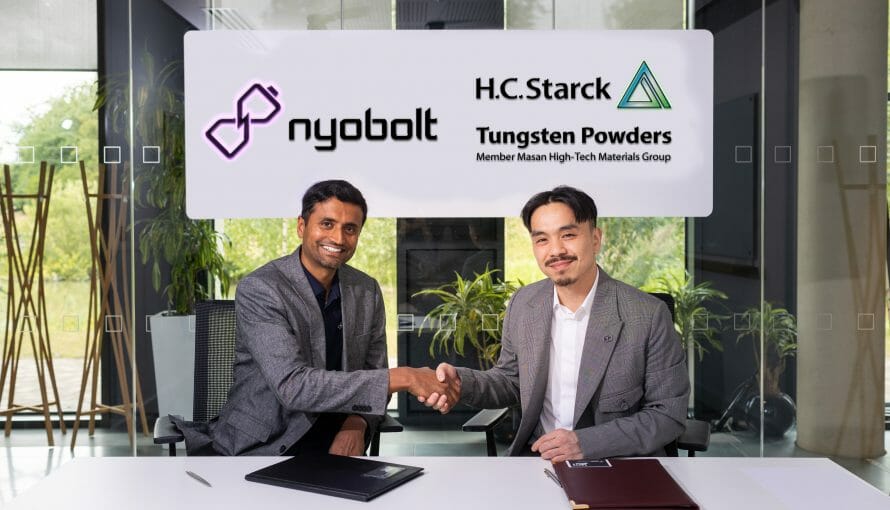 C. Starck, German materials pioneer, leads £50m Series B funding in Nyobolt, valuing the business at £300m.
The funding will help Nyobolt to scale the battery manufacturing for industries including automotive and home appliances.
The partnership is set to bring fast-charging, sustainable energy storage solutions to global
LONDON, July 15th, 2022: Nyobolt, the pioneers of end-to-end fast-charging battery systems, announce today the initial close of £50 million funding in its Series B round which will enable the company to enter a stage of manufacturing at scale.
The £50 million Series B funding is led by H.C. Starck Tungsten Powders ("HCS"), a subsidiary of Masan High-Tech Materials, one of the world's largest tungsten suppliers – a key component of Nyobolt's technology. The investment is set to drive Nyobolt's market entry by establishing its presence and launching the manufacturing of millions of units next year. H.C. Starck funding will enable Nyobolt's first materials manufacturing plant in the UK, as well as expansion of the US cell engineering facility and the teams' growth across the globe.
Cofounded in 2019 by Professor Clare Grey DBE, FRS and CEO Dr Sai Shivareddy, Nyobolt is commercialising high-performance battery and charging technologies to create a world where lengthy charge times no longer exist. The investment and future collaboration between Nyobolt and H.C. Starck in the supply of materials, scale up of manufacture and recycling aims to provide a sustainable solution supporting the transition to net zero in multiple sectors.
The ultra-fast charging battery solution developed by world renowned experts at Nyobolt drastically decreases charge time from hours to minutes, maximising uptime and productivity. Nyobolt's technology will lead the world towards transport decarbonisation, by erasing the greatest barrier preventing drivers from going electric – charge anxiety. The technology is applicable for devices ranging from home appliances to electric vehicles and industrial robotics, improving performance and revolutionising energy storage markets.
As well as ensuring security of supply of key materials, this strategic partnership will enable Nyobolt to benefit from the established recycling capabilities of H.C. Starck, allowing the efficient use of resources to minimise the environmental impact of Nyobolt's ultra-fast charging batteries. The collaboration will lead to a sustainable supply chain for Nyobolt's technology, making the technically demanding process of battery recycling easier and more efficient.
Nyobolt's technology builds on a decade of battery research led by University of Cambridge battery scientist Professor Clare Grey, who has been recently appointed as Dame Commander of the Order of the British Empire in the Queen's Platinum Jubilee Honours list for her services to science, marking her extensive contributions to the battery industry and its pivotal role for a more sustainable world.
Prof. Clare Grey, Chief Scientist and Co-founder of Nyobolt said: "We are excited to move our technologies from development to deployment in the market. We founded Nyobolt following the discovery of new anode technologies containing tungsten with remarkable fast charging capability to bring these properties to the market in applications touching all aspects of daily life. The funding from H.C. Starck will help Nyobolt to scale up our operations in the UK and United States and bring a more sustainable solution into the energy storage industry. Nyobolt technology will not only enable net zero both in the electrification of transport, but also the storing of clean and renewable energy on and off the grid. With the investment from H.C. Starck, Nyobolt's ultra-fast charging, high power batteries will help lead the way towards achieving the clean energy goals set by governments around the world."
Dr Sai Shivareddy, CEO and Co-founder of Nyobolt said: "Fast charging remains a critical unmet need as the world electrifies with more sustainable forms of energy – a need our technology addresses. We are
excited about the partnership with H.C. Starck and see it as a steppingstone to increase scale and speed to market revealing the true potential of Nyobolt technologies. The Series B funding will put Nyobolt in the driving seat of a fast-moving battery industry and allow us to showcase the uniqueness of our battery technology, developed by our team of experts, which is set to transform the energy storage industry. With H.C. Starck investment and technologies, Nyobolt will expand its manufacturing capabilities while minimising its carbon footprint with an effective recycle and reuse program."
Dr Hady Seyeda, CEO of H.C. Starck Tungsten said: "This investment marks a milestone in our strategy to move further downstream, and get closer to consumers by developing new, innovative applications including our recently trademarked "starck2charge" battery materials product range. Nyobolt's technology is a real breakthrough that we can help commercialise based on our vast experience in transferring innovative solutions into large-scale manufacturing. This partnership is also going to accelerate the development towards a circular economy for batteries via enhanced recycling and new models of use."
Mr Craig Bradshaw, CEO of Masan High-Tech Materials commented: "I am really proud that just over two years after acquiring and integrating the H.C. Starck Tungsten Powders business into MHT we have been able to expand our breadth of business capabilities through the acquisition of a significant equity stake in Nyobolt. We look forward to working together with the Nyobolt team to advance their product offering and opportunities to partner in the manufacturing and commercialisation of their products as well as offering a full life cycle for the advanced strategic materials required in the Nyobolt batteries."
Nyobolt's existing investor – IQ Capital is also participating in the round.
***END***
About Nyobolt
Nyobolt are pioneering battery technologies that achieve record-breaking ultra-fast charging and high-power density. This solves a critical need that other battery innovations cannot meet. Nyobolt's solutions enable sustainable electrification strategies with smaller, lighter and longer life battery powered devices aiming towards carbon neutral goals.
About H.C. Starck Tungsten Powders
H.C. Starck Tungsten Powders, a wholly owned subsidiary of Masan High Tech Materials, is the world's leading manufacturer of high-quality tungsten powder tailored to individual customer needs. The company combines a century of experience in tungsten processing with high innovative power and technological expertise. Decades of experience in recycling and access to the world's largest tungsten reserves outside of China, owned by the company's parent group Masan High-Tech Materials, ensure stable supply with conflict-free raw materials. H.C. Starck Tungsten Powders employs around 540 people at three production sites in Germany, Canada and China plus sales offices in the U.S. and Japan. The company's headquarters is at its largest production site, in Goslar, Germany.
www.hcstark.com
https://masanhightechmaterials.com