Veolia announces its first electric vehicle battery recycling plant in UK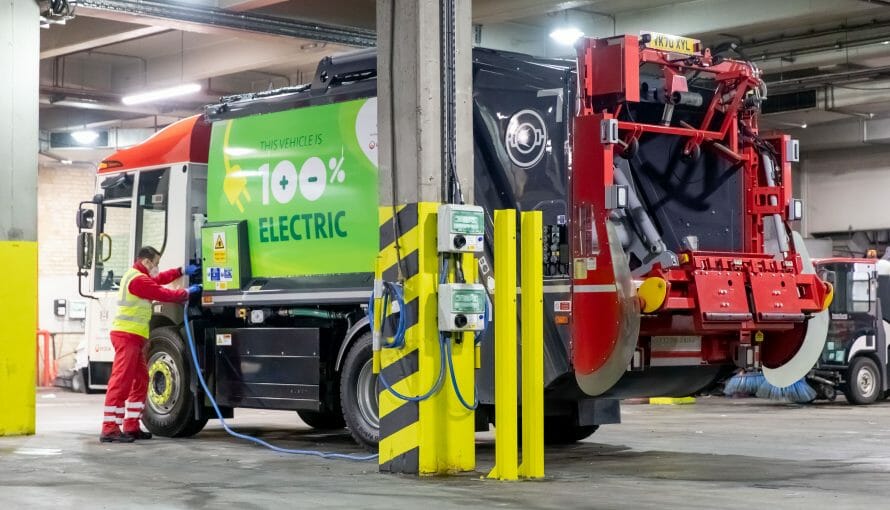 Urban mining will unlock UK's lithium-ion battery reserves
Veolia, the UK's leading resource management company, has announced its first electric vehicle battery recycling facility in the UK, which will have the capacity to process 20% of the UK's end of life electric vehicle batteries by 2024.
Many of the materials required for battery manufacturing rely on traditional water and energy intensive processes. It is estimated that 500,000 gallons of water is required to extract one tonne of lithium1 using this type of mining. Urban mining or the use of recycled materials could reduce water consumption as well as cutting greenhouse gas emissions from battery production by up to 50%2.
Veolia's new facility in Minworth, West Midlands marks the first step in developing its recycling technology and treatment capacity within the UK, with an anticipated 350,000 tonnes of end of life electric vehicle batteries predicted to be in the country by 20403.
The plant will initially discharge and dismantle batteries -before the mechanical and chemical separation recycling processes will be completed. In addition, Veolia will utilise its global network to establish a full circular economy solution in the next five years to produce battery precursors in Europe.
Gavin Graveson, Veolia Senior Executive Vice-President, Northern Europe Zone said:
"This is an important first step on the UK's journey to create an ethical and sustainable supply chain for batteries that will be increasingly necessary as we transition to a greener economy. 
"We will not reach carbon neutrality without increasing our investment and development of new technologies and recycling opportunities. As the demand for electric vehicles increases, we will need this facility – and more like it in the UK – to ensure we don't hit a resource crisis in the next decade.
"Alongside other projects across the globe, bringing Veolia's expertise to the UK recognises the size of the national market and appetite to recycle locally and responsibly. Urban mining is essential if we are to protect raw materials and will in turn create a new, high-skilled industry."
———————-
Notes
1) Institute for Energy Research; https://www.instituteforenergyresearch.org/renewable/the-environmental-impact-of-lithium-batteries/
2) International Council on Clean Transport;
https://theicct.org/sites/default/files/publications/EV-life-cycle-GHG_ICCT-Briefing_09022018_vF.pdf
3) WMG University of Warwick; https://warwick.ac.uk/fac/sci/wmg/business/transportelec/22350m_wmg_battery_recycling_report_v7.pdf
Potential applications for recycled materials:
Cobalt: Airbags in vehicles; catalysts for the petroleum and chemical industries; cemented carbides (also called hardmetals) and diamond tools; alloys for aircraft engine parts
Lithium: Rechargeable batteries for mobile phones, laptops, digital cameras, power tools, and electric vehicles. non-rechargeable batteries for heart pacemakers, toys and clocks.
Manganese: Fungicide, aluminium cans, fertilisers, iron and steel production, chemicals
Nickel: Bathroom taps and shower heads, stainless steel, coins, medical equipment, power generation and jewellery
Copper: Electrical wiring, motors, transformers, electronics, cooking pots and pans, pipes and tubes, rose gold jewellery
Aluminium: Cans, foils, kitchen utensils, window frames, beer kegs, aircraft
Graphite: Pencils, mobile phones, lubricants, solar panels
More information:
https://www.veolia.co.uk/press-releases/groupe-renault-veolia-solvay-join-forces-recycle-end-life-ev-battery-metals-closed
About Veolia
Veolia group aims to be the benchmark company for ecological transformation. With nearly 179,000 employees worldwide, the Group designs and provides game-changing solutions that are both useful and practical for water, waste and energy management. Through its three complementary business activities, Veolia helps to develop access to resources, preserve available resources, and replenish them. In 2020, the Veolia group supplied 95 million people with drinking water and 62 million people with wastewater service, produced nearly 43 million megawatt hours of energy and treated 47 million metric tons of waste. Veolia Environnement (listed on Paris Euronext: VIE) recorded consolidated revenue of €26.010 billion in 2020. www.veolia.com
For more information visit us at www.veolia.co.uk or follow us on Twitter at www.twitter.com/veoliauk.