ZipCharge announces strategic partnerships with ICEE and Graphite, two innovative British businesses, to develop the GoHub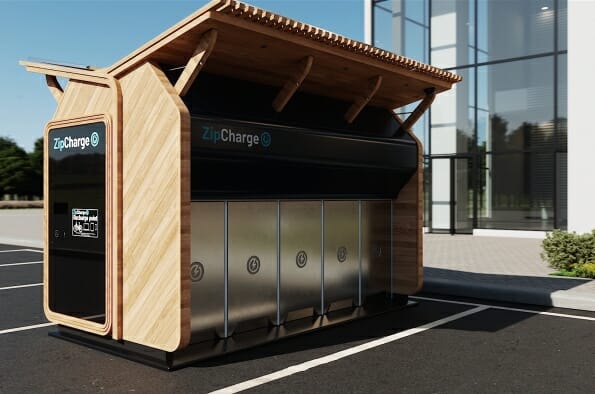 London, 11th MAY 2022 ZipCharge, the portable EV charging expert, has today announced strategic partnerships with ICEE Managed Services and Graphite, bringing together three innovative British businesses to develop the mechanical and electrical systems for the GoHub, the world's first portable charging infrastructure for shared, public use.
The GoHub hosts multiple ZipCharge Go EV powerbanks to address the need for convenient, flexible, and low-cost energy. It is a secure way of housing, recharging, and providing access to the ZipCharge Go so that anyone can access a portable powerbank at the lowest cost. The GoHub is modular and flexible in size, suitable for a diverse number of locations, including on-street, in car parks, at work and in private environments. It will form part of the global roll-out of the ZipCharge energy point network, with the ambition to deploy 100,000 GoHubs around the world by 2030.
ICEE Managed Services and Graphite are key strategic partners in the development, production and bringing the GoHub to market. Both companies have more than eight years of world class engineering, manufacturing and installation of public infrastructure, including the Brompton Bike Hire docks at sixty locations across the UK.
Jonathan Carrier, ZipCharge co-founder "We are delighted to have found two strategic partners in ICEE and Graphite. Together we will deliver the GoHub, a revolution in public charging provision, providing a community-based solution that can be installed anywhere, at a much lower cost and at a much faster rate, while enabling any parking space to be a charging spot. The ability to roll-out Electric Vehicle charging infrastructure at speed is essential to allow national and local governments to deploy it at a faster rate where it is needed the most to support mass EV adoption. EV owners will now have the choice to purchase the Go outright, on subscription or rent one through the GoHub. The GoHub is the world's first portable EV charging infrastructure for shared, public use."
Working together with ZipCharge, ICEE and Graphite undertook a three-month concept study to evaluate the design, technical, operational and installation challenges of the early GoHub concept. Using lessons learnt from other projects, the team could accelerate their understanding of the technical challenges associated with both the mechanical design and electrical systems. From the start of 2022, ICEE undertook detailed engineering design work on a range of GoHub configurations, focused on delivering a modular solution that could maximise the number of Go powerbanks available in the smallest possible footprint – to reduce material cost, simplify manufacturing, while also making it easier to transport and install.
ICEE have developed bespoke metal enclosures for a range of street and road furniture applications. They offer a full engineering and manufacturing service to develop bespoke cabinets using lean methodology plus advanced design technics and production technologies, so reduce time to market and cost. ICEE also provide a range of rapid prototyping capabilities including sophisticated CAD 3D Solid Modelling, the latest CNC Fibre Laser, Waterjet Cutting and Brake Press Machines.
Graphite have worked with the likes of Vodafone and Brompton bike hire, developing the electronics and software to operate and manage the hire of Brompton's unique folding bicycle lockers. Graphite designed bespoke Linux based controllers and modems with ultra-low power consumption to reflect the fact that most Brompton docks run off solar power. As well as the controller, Graphite developed the system for identifying in which dock and bay each individual bike is located in throughout the UK, which is how the ZipCharge Go powerbanks will be monitored inside the GoHub.
Paul Harris, Managing Director, ICEE Managed Services "We welcome the opportunity to be working with ZipCharge in taking the Go Hub product from its original concept into the pre-production design stage of its development. Our modern manufacturing facilities will provide a total Turn-Key Support Solution with ZipCharge in delivering the Go Hub product  to market"
Cory Carver-Grenside, Director, Graphite Ltd "Graphite are delighted to be working with ZipCharge on such an original product, we pride ourselves on being a technical solution provider to the likes of Vodafone and BT whilst developing new and innovative remote monitoring and control solutions."
ENDS
Notes to editors
For more information, please contact:
[email protected] / +44 7811 166 796
Images: https://bit.ly/ZipCharge_Images
Press Pack: https://bit.ly/GoHub_Press_Pack
Video: https://www.youtube.com/watch?v=_GNrA8PvQwI 
About ZipCharge
Our mission at ZipCharge is to democratise access to clean, low-cost energy wherever people need it – to charge an EV, to power the home or access energy on the go. ZipCharge provides smart energy storage solutions that integrate hardware, software and innovative services so anyone can store and access their personal energy in a smarter, more sustainable and lower cost way. With the Go portable powerbank and GoHub energy point network, ZipCharge will provide individuals, communities and businesses with the flexibility to store, access and distribute energy to make EV charging and access to energy more sustainable, convenient and affordable. ZipCharge is part of the energy transition, connecting distributed energy resources (DER) in the Go and GoHubs together to store renewable energy and provide a range of flexibility and resilience services to the grid through the ZipCharge energy management platform. ZipCharge's unique focus on distributed personal energy management will ensure everyone can use energy in smarter, more efficient, and sustainable ways to deliver energy democratisation, local grid resiliency and lower energy costs for all.
About the ZipCharge Go
To Go is a portable powerbank, developed to help people go electric by removing the main barrier to EV ownership. In the UK alone, 8.5 million or 40% of car owning households don't have designated off-street parking and can't charge at home. Available in 4-8kWh capacities the Go is compact, affordable, and connected for personal use at home, work and other destinations – anywhere a driver parks their car. The size of a carry-on cabin suitcase, the Go can be charged at home or elsewhere using a standard domestic plug. Using the retractable handle, users wheel it to their EV and plug it into the charging port. The Go enables top-up charging for daily needs providing between 20 to 40 miles (32-64km) of range in a little over 30 mins. This is sufficient for the average daily commute while providing low-cost, convenient charging anywhere people park their EV. The Go is also a smart energy storage device that connects to solar, powers your home and connects to the grid through the ZipCharge intelligent energy management platform.
About the ZipCharge GoHub
The GoHub is an innovative form of public infrastructure that combines charging, portable power and energy storage. The GoHub is modular and flexible in size so it can be intelligently reconfigured at minimal investment depending on the location. It provides shared access to Go portable powerbanks and fits inside a standard parking space, being suitable for a diverse number of locations, including on-street, or off-street in car parks, at work and in private environments. The GoHub will support the accelerated deployment of public charging, particularly in rural locations and under-represented communities. It is three times cheaper than equivalent AC fixed chargers and can also be deployed three times faster improving on financial returns. Thanks to its integrated battery storage, the GoHub will 'power communities' to make EV charging and access to energy more inclusive, accessible, and sustainable.
About ICEE Managed Services Ltd
ICEE specialises in delivering bespoke solutions. Working closely with the customer, we have considerable experience in prototyping and manufacturing completely bespoke products, from the enclosure or structure itself, to assembly and internal fit-out, cabling and testing of equipment and systems, all done in our factory, ready for deployment. We offer to install across the UK, commission and then maintain an equipment enclosure throughout its working life, including upgrading internals if and when required. We can make bespoke one-offs, or produce batches and variants. In short, we deliver a total, managed service.
About Graphite Ltd
Graphite Ltd was formed in 2009 by Simon Pini and Cory Carver-Grenside who had previously worked together in a variety of energy controls organisations. With a dedicated team of developers, Graphite delivers bespoke M2M web based monitoring and control solutions to a wide variety of industrial sectors